Sonja Jokiniemi (born in Kuopio, Finland) works as a choreographer, performer and artist. Jokiniemi is based in Helsinki, Finland and Lausanne, Switzerland. She graduated from the Performing Arts programme at DAS Theatre in Amsterdam 2013 and with a BA degree in Contemporary Dance at Laban Centre in London. Additionally she has completed a study in Expressive Arts therapy from Inartes Institute in Helsinki 2020.
The artist's works are situated in the cross-overs of performances, drawings and textiles, where  drawings act as an important part of scripting the performance works as well as being part of the stage designs or installations.  A lot of her work is rooted in the quest of storytelling, language systems and haptic relationality- calling towards alternative ways of speaking, knowledge formation and re-systemizing the values of language and perception.
Jokiniemi is interested in the exploration of multidirectional, messy human experiences and bodily sensations as an important landscape for thinking around networks of things and beings; their ordinary and uncanny relationships. More recently an increased investment in the research of manual labour, craft traditions and cross generational knowledge sharing, results in the intertwined production of textile and dance art.
Sonja's work has been supported by many performing arts venues such as STUK-A House for Dance, music and Image (BE), Zodiak Centre for Dance, Moving in November festival and Kiasma Contemporary Art museum (FI), MDT (SWE), BUDA Kunstzentrum (BE). She has recently exhibited at HAM-Helsinki Art museum, Oulu Art museum, Ars Libera gallery, Den Frie Centre for Contemporary Art in Copenhagen and Dr.Guislaan Museum in Ghent. Jokiniemi has been awarded three grants by The National Arts Promotion Centre Finland (Taike): a one-year artist grant for 2017, a three-year artist grant for 2018-20 and a five-year artist grant for 2021-2025.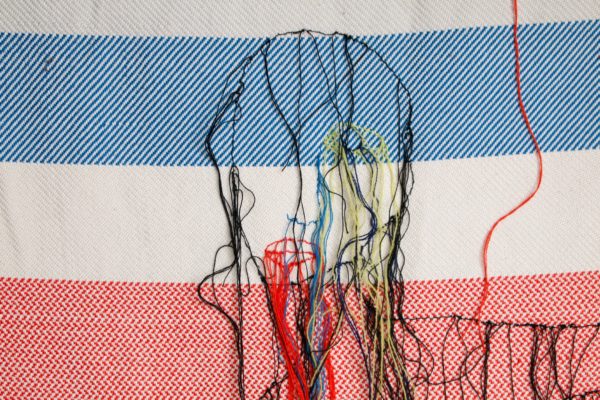 During the exhibition, Imagine Everyday! Outsider Art Finland, two new textile artworks by Sonja Jokiniemi will be presented at Institut finlandais.
Sonja Jokiniemi : Work 3, 2023
Sonja Jokiniemi : Work 0, 2022—2023
The two new textile works exhibited at Institut finlandais are part of a series of works originally co-commissioned by HAM – Helsinki Art Museum as part of their exhibition Dance! Movement in the Visual Arts 1880–2020 in 2022.
These loom woven and hand sewn textile works, resembling domestic cloths, with their everyday like patterns and materiality, are flushing out from themselves. Attempting to evoke a sense of the un-controlled and messy in relation to the decorative in visual and embodied expressions with a hint of celebration and joyful resistance through their usage of multiple colours. She then scribbles onto them figures from her drawings, that deal with disproportions and dislocations, figures imagined in different emotional states and situations in life. These figures partly camouflage and partly exhibit themselves as part of the story of the fabric. The artist uses the technique of pulling threads whilst manually weaving the fabrics. Deconstruction and construction are simultaneously at play and the fraying of a cloth creates spaces for the polyphonic, fragmented and entangled. The quality from the line drawing translated into the sewing produces a certain frailty that leaves these figures with a ghostly presence.
The works are related to performative sketches Tap & Pat, that have been shown in museum contexts at HAM – Helsinki Art Museum and Oulu Art Museum, FI. The project has been supported by Moving in November through artistic advice and International distribution and co-produced by the Finnish Institute in France (Institut finlandais).
Collaboration with Moving in November
During the past three years, Institut finlandais (the Finnish Institute in France) and Moving in November, Helsinki have closely collaborated together to bring Finnish performing artists to France, providing opportunities and highlight their work. Presenting Sonja Jokiniemi's textile works comes out of this collaboration, as well as the presentation of her latest performance Tap & Pat, that will be shown at the festival Rencontres choregraphiques internationales de Seine-Saint-Denis on the 2nd of June, 2023.
Moving in November is a contemporary dance festival organised yearly in the Helsinki area. The festival is an invitation to come together. To experience artistic works from the local scene and abroad. Artists voicing their critical thinking, their visions, their experiences, their dreams, opening small windows to the world we are living in.