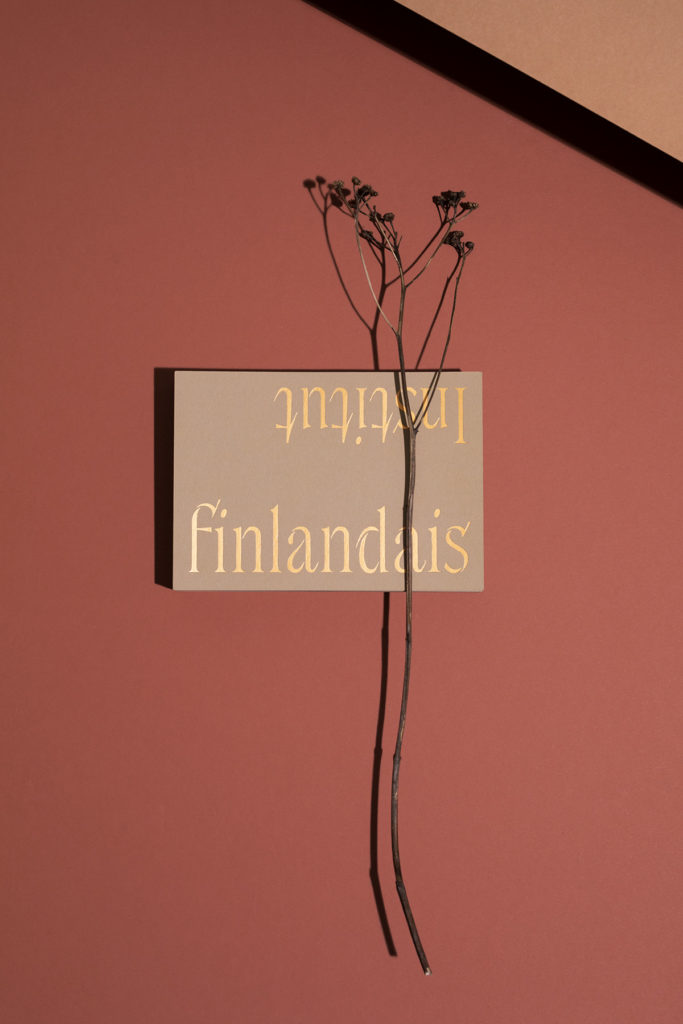 Institut finlandais is an independent and multidisciplinary platform between Finland and France.
Institut finlandais was opened to the public in 1990. Designed by the architect Juhani Pallasmaa, the facilities of the institute are located in a former cinema, in the heart of the Quartier Latin in Paris, which is an attractive international meeting place and platform to present Finnish culture, know-how and society. The premises were renewed during a major renovation in 2017–2018, led by architect Pekka Littow's Littow architectes, and opened again to the public in July 2018. Studio Joanna Laajisto designed the interior decorations.
Institut finlandais principal onsite activities consist of a gallery, a cinema and a café. Our café Coutume Institut is located in the Great Hall of the building, where we also regularly host talks and presentations. The furniture of the café is manufactured by the Finnish company Made by Choice, specialized in solid wood. Located on rue des Ecoles, the Galerie of Institut finlandais and its various exhibitions provide a showcase for Finnish art and design. The 60-seat auditorium on the ground floor offers regular film programs and other activities, such as Finnish language courses, led by Lea Lagerblom.
Institut finlandais in numbers:
– Great hall: 130m2, 80 seats
– Gallery: 40m2
– Meeting room (floor): 30m2, 20 seats
– Cinema: 70m2, 60 seats + 2 seats for disabled people
– Maximum capacity (Great hall and gallery): 195 people
Staff
Johanna Råman, Director
johanna.raman(at)institut-finlandais.fr
Laura Vanto, Producer
laura.vanto(at)institut-finlandais.fr
+ 33 (0)6 08 74 32 63
Kaisa Ahvonen, Head of Communications
kaisa.ahvonen(at)institut-finlandais.fr
+33 (0)6 76 42 59 30
Katariina Uusitalo, Administrative and Financial Coordinator
katariina.uusitalo(at)institut-finlandais.fr
+ 33 (0)6 38 88 03 22
Quentin L'hôte, Technician
quentin.lhote(at)institut-finlandais.fr
+33 (0)7 81 57 15 75
Tanja Juntto, Producer
tanja.juntto(at)institut-finlandais.fr
+ 33 (0)6 43 75 73 94
Alexandra Marschan-Claude, Chef of Café Maa
alexandra.marschanclaude(at)institut-finlandais.fr
+33 (0)6 08 66 22 48
Anni Alanen, Communications Assistant
anni.alanen(at)institut-finlandais.fr
Justine Sarton, Communications Assistant
justine.sarton(at)institut-finlandais.fr
Freja Schalin, Production Assistant
freja.schalin(at)institut-finlandais.fr
Anna Shemshura, Gallery Assistant
anna.shemshura(at)institut-finlandais.fr
The main purpose of the Institut finlandais foundation is to maintain and facilitate the cultural institute in Paris.
The core activities of the Institut are funded by the Finnish Ministry of Education and Culture. The projects of the Institut are also financed by different private foundations and organizations. The 2021 programme is financed by: the Finnish Ministry of Education and Culture, the Alfred Kordelin Foundation, the Finnish Cultural Foundation, the Jenny and Antti Wihuri Foundation, Svenska kulturfonden, Finnish National Agency for Education, the Nordic Culture Fund and Pro Helvetia.
Board of administration
President
Raine Tiessalo

Vice president
Saara Saarela
Members
Hanna Harris
Kaius Niemi
Jaakko Tapaninen
Katia Duncker
Markku Lampinen
Miriam Attias
Secretary
Katariina Uusitalo
Photography: Mikko Ryhänen, Aurélien Mole.