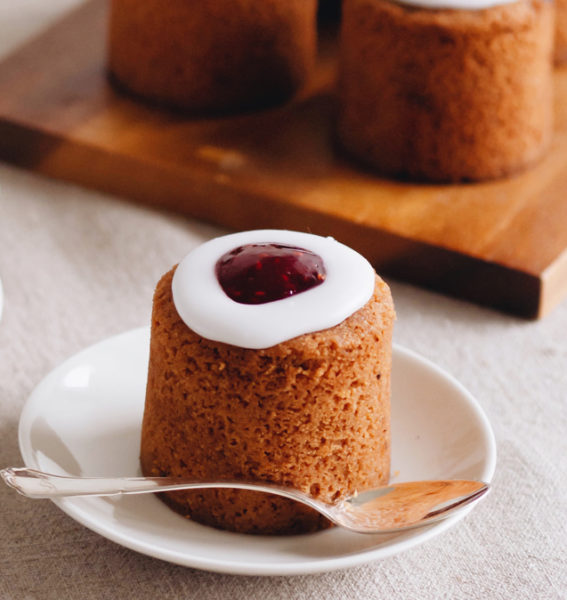 Johan Ludvig Runeberg (1804-1877) is considered Finland's national poet, and is celebrated every year on the 5th of February. Among other notable works, Runeberg is known for writing the lyrics to Finland's national anthem, "Maamme". At his time, he greatly influenced Finland's national identity through literature. 
During Runeberg's Day people treat themselves to a Runeberg's tart (runebergintorttu): a cylinder-shaped pastry with raspberry jam and a ring of icing on top. The almond-flavoured pastry is soaked in rum, cognac or liquor which gives it a pleasant aroma. A pastry chef in Porvoo first created the pastry, which then quickly became the poet's favourite. Since Runeberg liked the tart so much, his wife Fredrika Runeberg began baking them at home.
Café Maa's chef Alexandra Marschan-Claude shares her delicious Runeberg's tart recipe.
Runebergintorttu
Ingredients: 
100 g butter

½ dl sugar

½ dl brown sugar

1 egg at room temperature

1 ½ dl wheat flour 

¾ dl almond powder

½ dl breadcrumbs or biscuit crumbs

1 tsp baking powder

¼ tsp cardamom 

¾ dl whipping cream
For the topping: 
For the icing: 
2 tbsp hot water

1 tbsp sugar

2 tbsp punch, cognac or almond liqueur 
To decorate: 
⅓ dl raspberry jam

1 dl icing sugar

2 tsp cold water
Preparation: 
Mix the butter and sugars until the mixture is frothy. Continue to mix while adding the egg.

 Mix the dry ingredients together and add them little by little to the dough, alternating with the cream.

After having buttered and floured the cake molds, fill ¾ of each one with the dough. With the help of a small spoon, place ½ teaspoon of raspberry jam in the centre of each tart, then cover with dough. 

Bake in the oven at 175°C for about 20 minutes or until the cakes are cooked.

While the cakes are cooling, prepare the icing by mixing the sugar, hot water and liqueur thoroughly.

Moisten the cakes with the icing, then let it rest.

A few hours later or on the next day, remove the cakes from their molds and spread some raspberry jam on each cake, right in the center.

Separately, mix powdered sugar and water. With a piping bag, press the icing to encircle the jam in the center of the cake.
Enjoy!