For the Monthly portrait of May, we talked with sculptor and artist Man Yau whose works are presented in the recently opened exhibition Keep Your Garden Alive at the Institut finlandais. Man started her studies at Aalto University in the degree programme in Ceramics and Glass design. The career as a designer she aimed for soon changed its direction towards fine arts when the examination of materials conquered the pursuit of functionality. Man who is living and working in Helsinki shared her thoughts with us about the meanings of working in residency and materials, Brancusi and her future plans among other things.
Could you tell a little about your background, how did you end up working with sculpture?
Right after high school, I started studying at the School of Arts, Design and Architecture, at Aalto University, in the degree programme in Ceramics and Glass design. My intention was to graduate as a designer, yet my course works in design always turned out to be something else, and at the time I definitely did not think that I would end up in sculpting. I was always more interested in the experimental study of the material instead of the functionality of the product. The course works started to resemble more and more sculptures. Maybe a clearer leap towards sculpting was in 2012 when I was working on the project "Porcelain Decks". In the project, I used the function of a utility item as a part of an artistic idea, and that kind of method is still visible in my works. The combination of art and design is an essential part of my artistic work.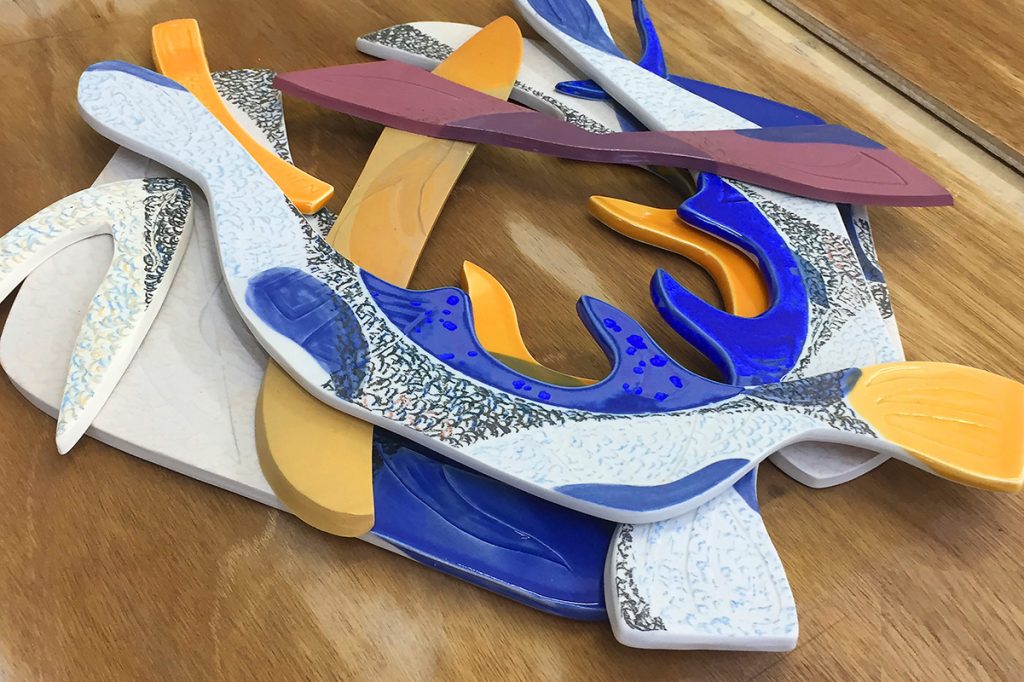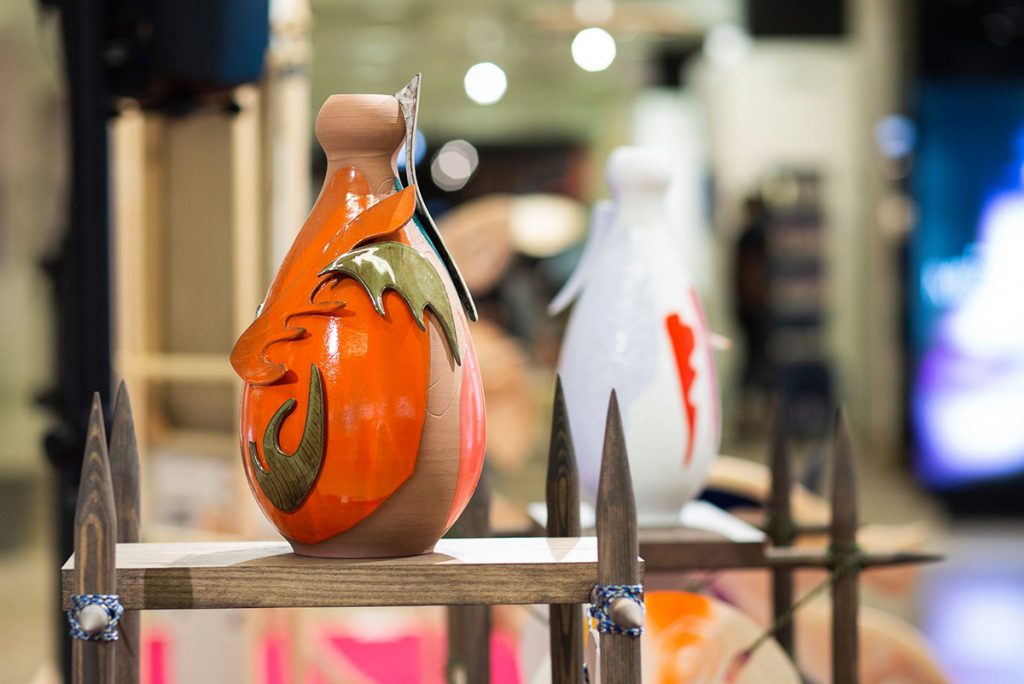 Last fall you did a residency in the Shigaraki Ceramic Cultural Park in Japan, organised by the Finnish Institute in Japan. During the residency Shiga-Love, a series of artworks that is on view in the Keep Your Garden Alive exhibition was born as well. How did the residency period affect your working, how is it seen in the artworks? Do you have other residency periods planned for the near future?
The residence in Japan was lovely <3 As a working period it was relatively short for ceramic work, only six weeks, so I decided to focus more on the technical difficulties like working on the jointing technique with ceramic and underglazing. I developed a method of junctions that is fully realisable through the means of ceramics and underglazes that work without a clear glaze. These techniques combined with the influences I saw, experienced or felt during the residency have influenced the way the sculptures look.
Hopefully, in the near future, there will be good residency periods too! For the moment I still have not applied for them, because I only want to apply for residencies with sufficiently good funding provided by the organiser. Working in residency is often very demanding; in a certain period of time, you have to learn to work in a new environment with new people, and also carry out the background search according to the plan, and ideally also work on the artworks. It is very challenging if the funding is not in order.
You often work with demanding materials, such as wood, ceramics and marble, whose use demands significant technical know-how and understanding. What is your favourite material, and why?
The materials have a significant part in the artistic work, and I always choose a certain material for a certain sculpture because that material is just the "right one" for it. In other words, I don't usually start to work with the idea "now I have to make something from ceramics", instead the material choice has been determined through the artistic thought. For example, the project "Porcelain Decks" could not have been made of glass because the history of glass or working on it as a technique would not have supported the artistic idea the project retained. So, I cannot say what my favourite material is, maybe the easiest material for me is ceramics because I have been working with it for so long. It could be said that I like hard and durable materials, whereas soft or synthetic materials seem remote to me.
Your works are often colourful and the palette is bold. Through what kind of process do you sketch the colour scheme for your sculptures?
The use of colours has always been a part of my working. The colour scheme comes about kind of the same way as the material choices. In some projects, the colour is defined by the technical challenges (Delfu – hiding the creator), whereas in some projects the colour can be repetitive and pattern-like (Planet HER-BB – problematic of production). I often aim to reaffirm the "character" of the sculpture by colours, but I avoid using the type of colour use where universal colour symbols, such as pink for girls and blue for boys, are exploited.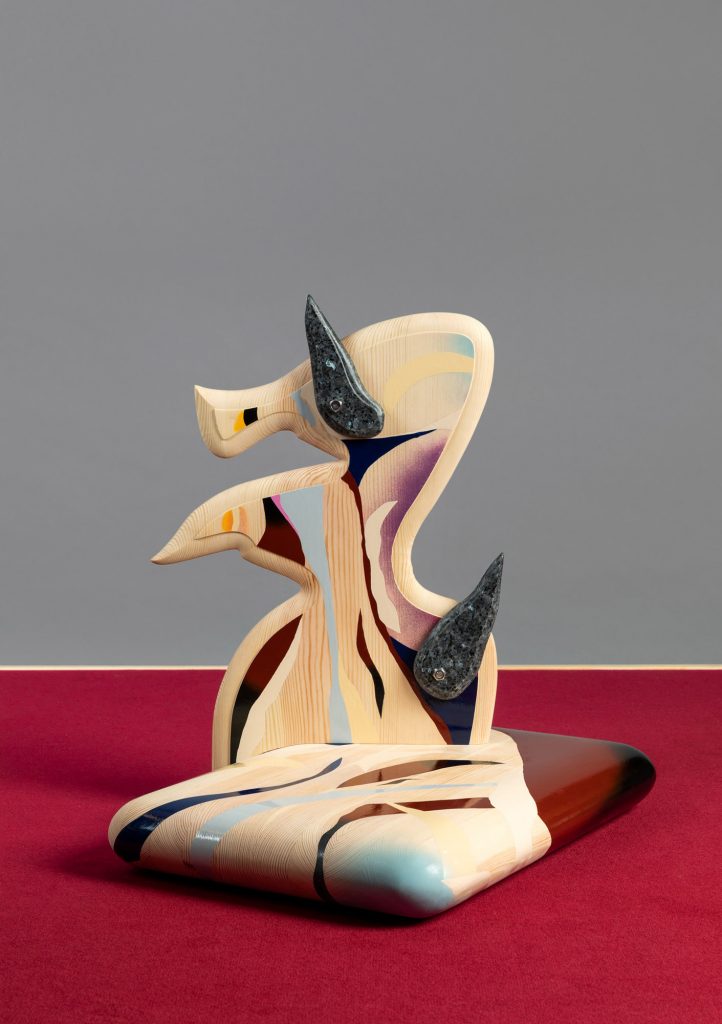 The exhibition Keep Your Garden Alive also presents the work Ladybug. What is the story behind this particular work?
Ladybug is from the sculpture series called "Nexus" that was presented last year at the Helsinki Design Week as a part of the HOP installation series. In that particular series, I dealt with junctions, bearing capacity and relations that are also visible in the sculpture Ladybug. In that sculpture I thought about the shadow, or maybe more about a person or a thing, and what kind of a shadow it reflects. Ladybug does not, however, portray directly this person or its shadow.
Which artist do you admire? Where do you draw inspiration from?
That's a tough question… I have always admired Constantin Brancusi's sense of arrangement and use of stone, Mondrian's skill to hide the bodily process in his works, or Amy Brener's way to handle the dystopian future from a feministic point of view. I admire Elina Vainio's sensual and delicate way to deal with topics that can be very heavy, also the new online display curated by Sakari Tervo, that breaks the traditional exhibition space, or my husband Jussi Niskanen's works where oil painting accentuates the essence of the painting itself. The list could go on forever. However, I often get inspiration for my works from mundane things, such as books that I read, screens I look at on my computer, my nearest and dearest and the discussions I have with them. As stupid as it sounds, I draw inspiration from my own life, things that I observe from my own surroundings.
Your work has gradually shifted from design to fine arts over the years. How imbricated would you say the two fields are in Finland?
Yes, it does happen more or less; concretely it is visible through the fact that we have galleries that knowingly showcase art and design side by side (Lokal), and firms that present art along with their products (Artek) and "Taikki", the university where it used to be possible to study the basics of creating art in every study programme (before it was merged into Aalto University). On the other hand, I have myself heard the type of comments that someone who has graduated from a designing school cannot call themselves an artist, or that even though Finland has a long history in the field of design, and design draws inspiration from the fine arts, they should never be mixed together.
What do you have planned for the rest of the year? What is your dream project?
At the moment I am working on a private exhibition and along with it on a book project with Emma Sarpaniemi. I try to keep the year as empty as possible so that for once I would have time to focus on research and sculpting; I also want to put new materials into operation. My dream project would be something where the outside pressures would be at the lowest, whatever that means. 😀