For this Monthly Feature, we had the opportunity to talk with the founder and artistic director of Aalto International, Tuomas Merikoski. After years of experience in working for Givenchy or Louis Vuitton, the designer decided to create his own fashion house 4 years ago. What has become of his brand since 2015? In this interview, Tuomas talks about his projects and his company, but also of the summer that is at its peak. 
Tuomas Merikoski is the founder and artistic director of the house Aalto International, established in 2015. The Finnish fashion designer who always tries to transmit some of his origins in his works – already in the names of his collections, has set up his brand in Paris. The silhouettes of Aalto-women are always sophisticated, yet originals. The evolution of the Aalto brand has been direct and quick, the collections and their presentations are getting more and more complex, the inspiration changes. Still, Finland remains as a common thread in all collections, that have been finding inspiration, for example, from the Moomins in Uusi Fantasia ('New Fantasy' SS 2017) or from other Finnish artists, such as Jouko Lehtola, in the first Aalto collection called Young Heroes (AH 2015).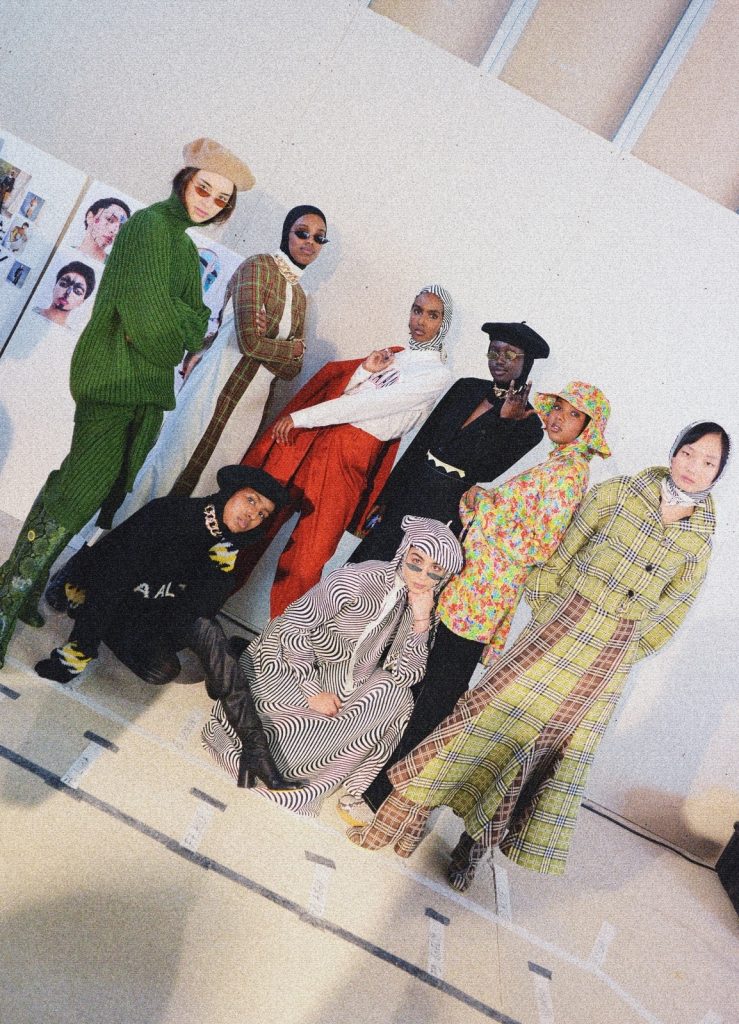 Aalto has some avant-garde elements in their collections too. This was visible, for example, in the Finlaand fashion show that took place at the Galeries Lafayettes on the Champs-Élysées in a hall still under construction at the time. During the fashion show, the guests could also try the new 'see now, buy now' concept (buying a product right after seeing it on the runway). Tuomas admits the show was surely business-oriented, but not entirely. He adds that designers, too, need and want to create a platform for their customers where they can connect and have means of communication with them. Social media offers a good platform for this, and Tuomas knows how to take good advantage of it. However, this concept is fragile in his opinion as the industry does not allow the 'see now, buy now' concept. 
In the Finlaand fashion show, the designer emphasised his roots once again, but the silhouettes he created were mixing, blending: "That's what we wanted, to say that diversity is a richness, not a threat. Being a Finn doesn't mean you have a white skin and blond hair, or that you have this or that position in the society, nor this or that education or job. A lot of the Aalto models are women of colour, who came to the show from Finland. The models identify themselves as Finns but have kept their respect towards their own cultural heritage. And that is really interesting." Already in his AW16 show (Hellsinki), Tuomas had played with cultural differences. This collection clearly showed influences from the Sami culture. Indigenous motives, mixed with black and rock'n'roll, Sami children kissing… The theme was very thorough. 
"I wish that one day, I could raise an investment fund or something to be able to work together with academic institutions"
Many projects are currently at work at Aalto International, and it seems to be a real DNA that Tuomas is creating for his brand, an identity that is strong and remarkable. "Work here is hard, but of course there has to be a certain rivalry between brands. The doors are open, the business is in Paris." It is perhaps one of the reasons why the Finnish designer chose to implant his company in Paris and not in Helsinki. Education in fashion is good in Finland, and Tuomas considers there is quite a good potential there, especially in regards of creation: "I wish that one day, I could raise an investment fund or something to be able to work together with academic institutions, to bring Finnish brands here and help them develop further. There is real potential in Finland but some lack of know-how, not on the creative plan, but in the execution of it. And money, there's a lack of money, no one supports us enough to create a fund like that."
Actively engaged in environmental issues, Tuomas finds his inspiration in nature and the fragile environment. The next collection of the brand Kaaos, is inspired by this idea of chaos in nature, that can also be a positive idea. It is something we do not have to study, from where something arises, even during the production process which sometimes can be rough. "At the base of what is happening today (climate change, natural catastrophes), there is a message: we must look out for the future" conveys Tuomas. This is a very Finnish source of inspiration, the respect of nature, the linking between the practical and aesthetic.  It is precisely what Tuomas finds interesting in Finland, the contrast. He describes Finns as close to nature, well educated and willing to be a productive part of their society, but continues the description: "but there is this other aspect, darkness associated with melancholy sometimes. A side that is sophisticated, but at the same time rough. This dark and rebel side is what makes us interesting, something different we have compared to our Swedish neighbours, for example", Tuomas continues. The notion of contrast is always present in Finland. On the one hand, Finland is a model of respect and integrity to follow, but on the other hand, it is the young rebel among the Northern countries. 
When asked if summer is an appropriate time for creation, Tuomas answers yes, in some ways. It is, however, more challenging for the designers, because they have to find a balance between naked and dressed in their design. Tuomas thinks there is something more delicate in designing during summer and the prêt-à-porter professionals must learn to work with it. Concerning couture and creation, the summer season brings along a lot of things to ponder on in design reflexions, the wardrobe decreases, there are fewer choices.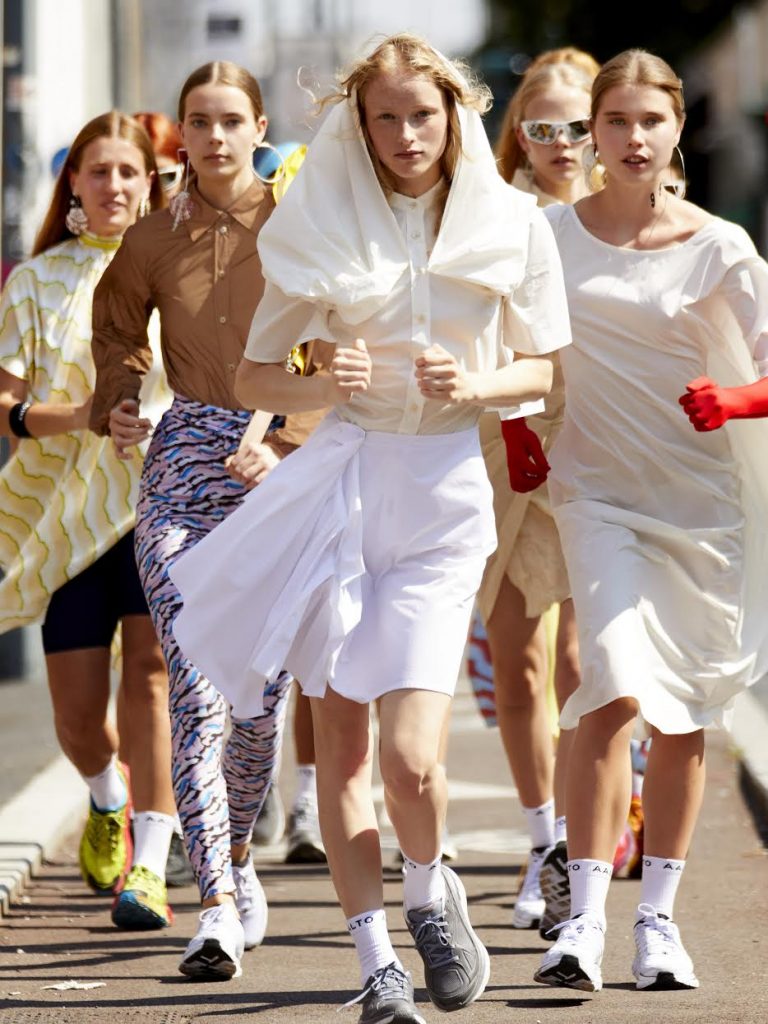 This summer, the Aalto woman is full of contrasts, somehow raw but casual, accessible at the same time. Tuomas sees her to be wearing something easy, flowing and casual: "at the same time as there is an elegant side, there is something that is a little bit edgy and fashion. I think through fashion, it is possible to express the things you support, your own identity and values, and I think you have to be able to create emotions." The brand,  that is always working on contrasts and structures, often produces colourful outfits where the colours do not match. The brand also mixes masculine and feminine in its designs. They have created pieces that are very flowing, and others that are exactly the opposite as they are very structured. Along with the Fashion week and the coming summer, the designer has a lot of work awaiting him, though he stays discreet about his new projects.
While going on a walk in Paris, maybe we will see Tuomas this summer, where he likes to stroll. The favourite place of the artist is as simple as it is gorgeous: "At the moment I often go to the banks of Seine, even though it has become unpleasant with the cars sometimes, but as a Parisian, this place has offered me a space. I am positioned very centrally and I am not obliged to go through the whole city in my car, I can do sports, I can hang out and drink with friends. It's really nice, we meet at the very centre of Paris, we can see the places. These are the best things in Paris during the summer, from my very subjective point of view."
Text: Olivier Bachelet