On the occasion of the exhibition "Middle Sea" and in collaboration with Dora Dalila Cheffi, ÈLBÉ offers fashion pieces that make up a wardrobe of accessories thought out, designed and manufactured around the Mediterranean. This autumn, we had the pleasure to discuss with the two creators of this sunny brand with a holiday fragrance, Nour B. and Clémentine L. As the summer passes by while we gather around our hot drinks, evoking the birth and the identity of ÉLBÉ not forgetting their values, the projects and desires of its founders makes us feel the warmth of Tunis, like a slow and vibrant energy that illuminates their creations. 

How did you come up with the brand ÈLBÉ? What gave you the inspiration to create your own brand?
Nour: We met each other while working for a big fashion house in Paris. We worked in pairs on belts and other leather accessories for the shows. We really liked working together and had a unique relationship. After a while, I left the fashion house but we still continued to see each other and create little products just to have fun. After that we wanted to embark on a real project together. Clémentine also left the fashion house and that's how we created ÈLBÉ. We quit a luxury house that operates as a big business because we did not want to be surrounded by this great consumption, with the waste of material, any longer… We wanted to be accessible to anyone without the need to have a keen eye on understanding our universe. We wanted something more simple, more emotional and something about friendships, sharing, and love. From that we came up with the term "ÈLBÉ, meaning "my heart".
Clémentine: The first step was to draw conclusions from our previous experience. What we no longer wanted was the industrial aspect of fashion, but to keep the excellence of our know-how, the relationship we both had, and the connections with the people we worked with. We started by creating a test collection that received very positive feedback. We also had a lot of fun while creating it – which was exactly what we wanted to do. We want to create high quality products and keep this luxury know-how. We also included our personal projects and personalities in the heart of ÉLBÉ. We are a multicultural duo, meaning that we do not have the same experiences of life. The identity of ELBÉ was then born from these differences.
In the beginning of your career, were you planning on working for big fashion houses or did you already have the idea of creating your own brand?
Clémentine: We did not have the same ambitions at all! Nour wanted to work for big fashion houses and for my part, I have always wanted to create my own brand. I started working for the fashion house in Paris completely by chance. I was looking to do crafts because I come from a family of craftsmen and I had the opportunity to do my apprenticeship at the fashion house and then be hired because my work was appreciated. It was a very happy coincidence.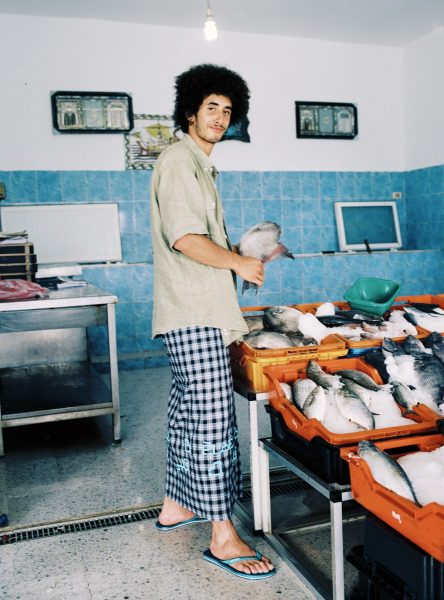 How would you define ÈLBÉ's identity?
Clémentine: We wanted to create an open and culturally mixed brand. ÈLBÉ is a brand of seaside, heat, holidays, palm trees, sun…
Nour: …and slow life too, because in Tunisia the temporality is not the same at all. In our conception of fashion design and manufacture, we have chosen a slow pace instead of a frenetic one such as in the industry.
How does ÈLBÉ connect to Tunisie?
Nour: I am Tunisian and it was obvious for us to create a brand that represents our identities, whether of mine or of Clémentine's, who grew up in a multicultural environment in the 11th arrondissement of Paris, around Belleville. When she came to Tunisia, we talked a lot about the North African culture that she was already quite familiar with. Our inspiration has its roots in Tunisia. In terms of clothing, women and men are dressed almost the same, with dresses or floating trousers. We find this idea of ​​having "pieces of fabric thrown over the body" with accessories interesting.
Clémentine: It is certain that in France it is less common to see men wearing scarves or long tunics than in Tunisia where it is much more common. In France, we had male models who were more reluctant to pose because they were afraid of the look they were going to have in a skirt, while in Tunisia this question did not arise. When one talk about a unisex brand, it is often meaning "women wearing more masculine clothes" – at ÈLBÉ, we wanted things to find their balance. When we opened a pop-up store in the Marais in Paris, we put in the window a photo of a male model with long dreadlocks wearing a skirt. There were people who were surprised, in the middle of the Marais, and the contrast was visible! We weren't expecting this kind of reaction at all, it was natural for us and we didn't mean to shock anyone, but it is interesting to see that we can put new things under people's eyes to make them question certain ideas about fashion and genre.
Your collections offer jewelry, handbags, hats, scarfs and some ready-to-wear pieces. Why did you choose to design mainly accessories?
Clémentine: Creating accessories is consistent with our own way of dressing. For us, style is born from accessories.
Nour: Accessories are more inclusive because we worry less about sizes, seasons, and genres. We have a very simple style with classic and comfortable clothes that we like to combine with sophisticated accessories. They are like spices on a dish: for us, accessories are spices that add flavor to the figure!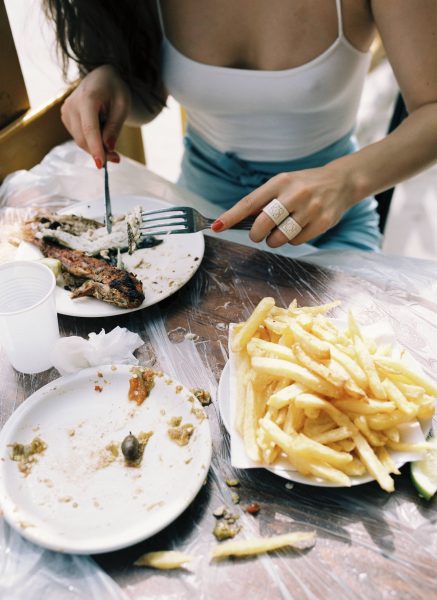 How do you design your pieces?
Nour: The first step is to find the materials. We work as much as possible with second-hand materials, end-of-stocks, fabric scraps, vintage pearls, recovered leathers etc. We will then start composing new pieces from these materials: we choose the prints, the range of colors, and so on. What comes to the production of the parts, we always try to do as much as possible ourselves first in Paris. Regarding all the parts for which we do not have the material, we mainly work with French and Tunisian craftsmen.
Clémentine: As our work is based on the choice of materials, we are dependent on the quantity of materials that we will find. This is the reason for why some of the pieces exist in a very limited number of copies.
How do you consider the ecological questions in your work?
Nour: We promote as much as possible existing materials and revalue materials that were intended to be discarded. In general, we encourage people to moderate consumption. However, we didn't want "green" to be our marketing argument. Ethics are part of our process but we are not going to shout it from the rooftops! For us today, launching a brand can only be done in this process.
Clémentine: We didn't even really ask the question ourselves, it just seemed obvious that we needed to have as little ecological impact as possible, but we didn't particularly want to communicate about it. We also know that we can evolve, and with greater resources we could do even better.
The exhibition "Middle Sea" combines your works with the pieces of a Finnish-Tunisian artist Dora Dalila Cheffi. How do you see the works of Dora? How did this collaboration go?
Clémentine: We fell in love with her work! It's cheerful, accessible, unpretentious, the colors are splendid, it feels good… All the adjectives to qualify her work are the ones we want for ÈLBÉ. We find that her universe completely resonates with our own identity.
Nour: This exhibition was the nice surprise of 2020 for us. Several projects and sponsorships were canceled in March 2020 due to the health crisis, and the Finnish Institute made this proposal to us, which we welcomed with great pleasure. We had common knowledge about Dora in Tunis and we followed her work online.
We had this idea of ​​creating a scarf in collaboration with another artist that we had been thinking for a long time in general, but we had never really met with Dora. So then Dora called us to tell us that the Finnish Institute wanted to exhibit her and she offered to do it with us because she thought our two worlds would go together very well. The Finnish Institute was very enthusiastic about our idea of ​​collaborating on a scarf and the project got underway very quickly! We told her that we really like her paintings, that's why she offered us a painting and we loved it!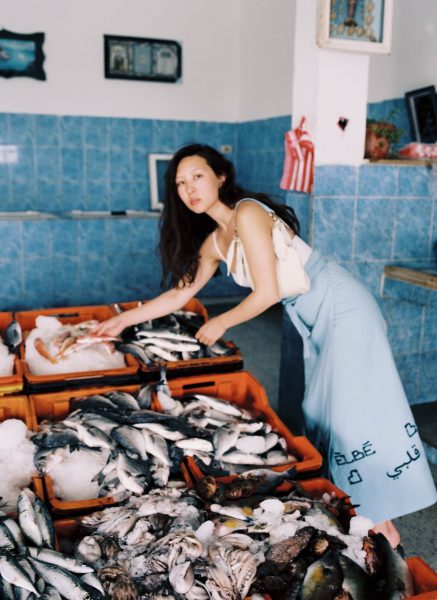 What are your future plans when it comes to ÈLBÉ?
In the current health context, we must first adapt our current economic model because we are one of the small structures that have been particularly affected by the health crisis. We are planning to open a pop-up store in Paris in the future. Our project is completely self-funded by both of us and we must find solutions to continue growing our story in a sustainable way. We will also participate in international competitions aimed at promoting small brands and luxury crafts.
In our September's "Monthly feature", Dora told us about the lack of cultural institutions in Tunis and the solidarity between artists. Do you think the situation is similar in the field of craftsmanship and design?
There is really a creative synergy in Tunis, which is particularly conveyed by a generation of young artists who no longer see themselves as isolated creators but as part of a local and united network. They pool their skills to discuss, inspire, work together, regardless of medium. Several initiatives in the field of craftsmanship have emerged and we will be following this closely! At our level, this reinforces our initial desire to collaborate with other designers.
What is your relationship to design and craftsmanship?
In reality, we define ourselves more as artisans than designers. Design is a very western and a rather abstract term. In the fashion world, there is a hierarchy between studio design as the place of creation and the crafts workshops as the place of simple execution. But for us, it is impossible to separate design from production because to create is to produce and to produce is to create. This is why we see ourselves as artisans, we design and produce in the same process – with two heads and four hands
Interview: Kaisamari Sundström et Juliette Brochet