We had a chance to exchange a few words with artists Satu Tani and Maria Tani, whose artworks are currently on display at Institut finlandais. In our interview they share the process and inspirations behind their art and talk about their plans for the future. 
Hello Satu and Maria! What are you expecting from the exhibition in Paris?
Satu: I'm excited about taking part in the exhibition. This is a great continuation to our long-term collaboration with Maria. It is also wonderful to get to see our cousins who live in Paris. 
Maria: I'm really looking forward to getting to Paris. I have been there once 16 years ago and it's a beautiful city. It would be nice to get some visibility for our artistic work abroad as well. 
What was the process like behind your artwork Breathing Reef ?
Satu: We started making art together in 2018. After the TraumaWear project we were looking for a new topic for our art. 
Maria: When I had finished crocheting the medusas, I needed something to do with my hands while watching Netflix. That's where I got the idea to crochet corals and sew them into a summer dress, which took two years. Corals are very interesting. I have always loved marine animals. 
Satu: As a child I loved watching The Undersea World of Jacques Cousteau and other documentaries about the sea. We had previously done performance art together with Maria and I was inspired by the corals she had crocheted. To me and many others, corals are a powerful symbol of the ecological crisis and the destruction of the seas.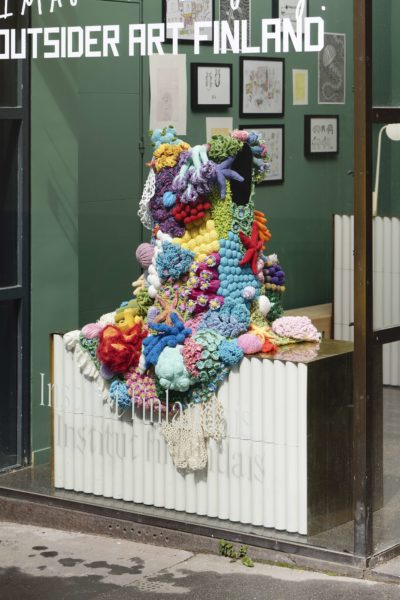 What has inspired your artworks?
Satu: Things that interest us or that we particularly enjoy. As we both are on the spectrum of neuropsychiatric syndromes, we want to bring to light different ways of communicating and operating in the world. I am also inspired by our relationship and our different ways of making art. 
Maria: I do everything that I happen to be interested in at the time. Topics related to nature are close to my heart. I don't attach as much meaning to the topics as Satu does. My latest craze was sea slugs. 
Are there any artists that you consider to be your role models or who have influenced the way you work?
Maria: I don't know. I do like to go to art exhibitions but right now I can't think of any specific artist. I often don't even read the names of the artists or their works when visiting an exhibition. I like classical, figurative art but I can't paint realistic paintings myself. I also like surrealism.
Satu: I don't feel like I have any role models. We grew up with art and were encouraged to be creative from a young age. We made art and hobby crafts all the time. We visited a lot of exhibitions. The exhibitions at the Retretti-museum in Punkaharju were the highlights of our summers. For me, art is still about playing and experimenting. 
You have been awarded the Outsider Art Festival's Artist of the Year 2022 prize, which includes a grant of 1000 euros for internationalisation. What hopes and plans do you have in regard to internationalisation?
Maria: I have used the money to buy materials for the Breathing Reef artwork and for my other upcoming works. Little by little, I have bought crochet threads and yarn from flea markets. I am going to crochet ammonites and I would like the installation to be exhibited abroad. In the future I would like to make more art by embroidering by hand. I am dreaming about having an exhibition in Japan one day. 
Satu: In addition to the Paris exhibition, our works will be on display at the Art Brut Biënnale in the Netherlands. There we will release the final version of the Breathing Reef video piece that we have been working on for a couple of years. It is interesting to see what can come out of international exhibitions.