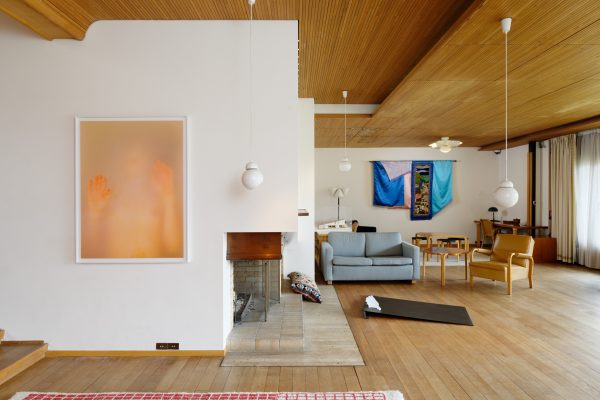 When our eyes touch is the first chapter of A I S T I T / coming to our senses, a year-long series of exhibitions and performances commissioned by the Finnish Institutes in the Benelux, France, Germany, and the UK and Ireland to explore the complexity and wonder of our sensory perceptions and how they shape us as human beings. Curators Hans Rosenström and Satu Herrala reflect on the topic of 'senses' ('aistit' in Finnish) and their physical, political and technological dimensions today. Bringing together multiple visual and performing artists working across different geographical locations, A I S T I T / coming to our senses unfolds a fragile world that is interconnected and full of nuances.
Indeed, touch is the first sense to develop in the human infant, and it remains perhaps the most emotionally central throughout our lives. It is vital for the emotional and physical health of human beings and other social mammals. To touch and to be touched is to recognise a connection and simultaneously a separation at the margins of oneself; the movement back and forth on the border zone of one's body. But how to touch and be touched during a global pandemic when physical proximity has become dangerous, potentially lethal?
While taking place at Institut finlandais, the second part of the exhibition will also be hosted in the most intimate of exhibition places : Maison Louis Carré, a private house designed by the Finnish architects Alvar and Elissa Aalto for the renowned Paris gallerist Louis Carré, situated in Bazoches-sur-Guyonne, 40 km south-west of Paris. Within the scope of the Helsinki Festival at Kunsthalle Helsinki, new artworks were ordered for When our eyes touch – A I S T I T / coming to our senses, made by Terike Haapoja, Kid Kokko, and Kalle Nio & Hans Rosenström. There will also be a collaborative exhibition with Etel Adnan & Simone Fattal, Monira Al Qadiri, Axel Antas, Anna Maria Häkkinen & Maija Mustonen, Kapwani Kiwanga, Laure Prouvost and Kati Roover.
The exhibition artworks tackle various topics around our perceptions and sensations : Kapwani Kiwanga examines  the relationship between political revolt and spiritual belief called Nations: Cap Francais 20, 21, 22 and  23 June 1793 (2020). A visceral video piece, Swallow (2013) by Laure Prouvost, will also be streaming : the suggestive flow of images and sounds appearing in a rhythm of inhalation seduces the viewer with intense and luscious sensory stimuli. Next door, a series of striking self-portraits by Terike Haapoja created during a time of physical and emotional distress will reveal moments of desire, mortality, abandonment and agency. The two dance artists Maija Mustonen and Anna Maria Häkkinen will respond to the current social alienation by creating a performative ceremony rooted in touch and care, realised in a video format. Finally, Hans Rosenström will adapt an intimate sound installation A House Divided, written in collaboration with hypnotherapist Charles Montagu. The work explores the boundaries of one's own body and how the process of speaking and listening transgresses those boundaries.
The access to When our eyes touch at Maison Louis Carré isn't free. Visiting the exhibition at Maison Louis Carré is only possible by registering and paying from the Maison Louis Carré website.
22.05.2021 – 01.08.2021
Maison Louis Carré
2 chemin du Saint-Sacrement
78490 Bazoches-sur-Guyonne
tél. 01 34 86 79 63