Founded in 2010, Studio Joanna Laajisto has established itself in a short time among top designers in the world to watch. Joanna Laajisto has also designed the interiors of the renewed institute, which will be reopened in July 2018. We talked with her about the institute's forthcoming and earthy universe, encounters in the space and their significance, and the importance of combining aesthetics and functionality.
You moved from California to Finland and changed snowboarding into the interior design: could you tell us something about your professional path? How did you end up in the world of design?
I had an American sponsor for snowboarding, Morrow, and that is why I spent several years in the States when I was younger. Eventually, I started feeling that it was the time to move on and get a "real job". I have always been interested in design but contemplated between fashion and interior design. Finally, I chose the latter because I felt I could create something more long-lasting in that field.
I studied at IDI in Newport Beach, California. After graduating with BA, I started working in Los Angeles for Gensler architecture, where I spent five years. When I got pregnant with my first child in 2008 I decided it was the moment to move back to Finland. Of course, in the U.S., there were many great and huge projects amongst with I had a chance to work, yet the work culture was much harder. For me, it was important to be able to fill my duties as a mom without sacrificing my career and founding my life on too many compromises.
In 2010 I established my studio in Helsinki. The mity and its impact on the society has been significant these last years, and I see Helsinki very well located in terms of networking and staying in contact with my customers abroad is quite easy.
What kind of universe are you going to introduce for the Finnish Institute? What were the starting points for this project in terms of research and inspiration?
We wanted to create something that speaks about contemporary Finnish design. Everybody knows the Finnish classics so we wanted to show a softer and maybe even a bit more rustic side of Finnish design. We used curvier shapes and natural materials such as light ash wood, Finnish granite and wool to create a very natural ambience.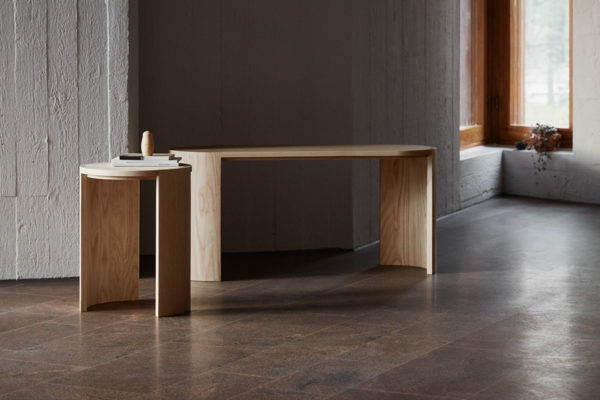 What is your favourite spot in Helsinki? What are the things that you appreciate and pay attention to first when visiting a new place?
My favourite spot in Helsinki is the Lonna island, which is just outside of the city: it has a great public sauna, restaurant and swimming beach. For me, that is the perfect way to spend a day in Helsinki.
When visiting any new place I like to go where the locals are. Find the nice streets, cafes and markets to absorb the real atmosphere. Here, Paris is an exception as one of the places you can feel and taste through simply entering the city. In contrast to many other places where you have to find the right neighborhoods, in Paris the city is present wherever you go.
What has inspired you lately? What do you like most about your work?
I was very inspired by the large gold coloured glass art piece by Renata Jakowleff that is going to be presented on the wall in the cafe space in the Institute. It has an organic and natural quality to it but is very polished at the same time. I love that kind of contrasts. In general, visual arts, music, cinema and fashion are prominent and close to my heart and affect deeply my work.
What I love about my work is the diversity. With the studio we are quite selective of the projects we do, so each one of them is unique, inspiring and challenging in their own way.
What other projects are you working on currently? Where would you like to see yourself in the future?
One of the things we are working on at the moment is a hotel project in the city of Jyväskylä in Finland. I love hospitality industry and would love to see us designing more and more boutique style hotels where the customer experience is in the centre of attention.
I firmly believe that people register their surroundings and react to it even without the knowledge and reading of a design specialist. What interests me, are these moments of encounter which I then disassemble, analyse and reassemble.
Concerning your everyday environment and interiors, what kind of things draw your attention in particular? Is it more about details or the overall picture?
I firmly believe that people register their surroundings and react to it even without the knowledge and reading of a design specialist. What interests me, are these moments of encounter which I then disassemble, analyse and reassemble. If every detail is well thought, rousing the emotions in the bigger picture is somewhat natural.
When visiting recently the fair Salone del Mobile in Milan, I became aware of overall installations and their increasing manifestations. The holistic, all-encompassing experiences that arise from the universes of sound, fragrances and lighting, are in the very spotlight at the moment.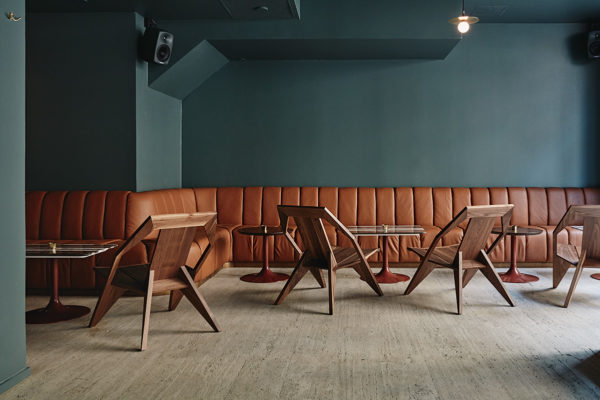 Regarding the Salone, how would you describe the latest trends when it comes to interior design? How do trends, in general, affect your work, or do you rather believe in long-term classics?
The interior design is changing rapidly, and it feels like it is getting even more agitated, especially in consequence of social media network as Instagram. I try to conceive classic and timeless spots and spaces as for me the best design is something that is hard to define whether it has been created ten years ago or ten years from now. Even though I am keeping up with what is going on with the latest interior design, I try to avoid working based on trends and disposable culture – the globe does simply not bend for this. Good materials and composed colour palette are the keys for me when it comes to both aesthetic and ecological design.
You also design objects yourself – a great example of this is The Airisto series made in collaboration with Made by Choice and the lamp Lumme, both of which are going to be also in view in the renewed Institute. Would like to further develop this practice in the future?
We design a lot of unique objects like the lamp Lumme for the institute. Occasionally the items end up in production, what happens when I notice a market niche. I find it hard to imagine that I would be only a product designer receiving commands. For me the interior and product design go hand in hand: I love details, yet the most interesting projects are among concept design where I am able to examine the project from above.
Photos: Mikko Ryhänen
Interview: Sini Rinne-Kanto