Laura Merz is a Finnish visual artist and illustrator who lives and works both in Finland and Germany. Laura focuses mostly on children's book illustration and wildlife themed drawings, using different experimental drawing techniques. Her children's books A Thousand and One Animals (Etana Editions 2016) and Among Fascinating Creatures (Etana Editions 2019) have won many awards and mentions. Laura's illustrations have been shown in several Finnish and international exhibitions and her work Clownfish is presented at Institut finlandais until July 18th. On February 29th Laura Merz is organising a creative workshop for children called Stripes in the sea, spots in the savannah, that focuses on different experimental drawing techniques. In the honour of the upcoming creative atelier we asked her a few questions. 
What inspired you to become an illustrator?
I've always really enjoyed drawing, and I did a lot of art studies in my free time as a child and teenager. I went on to study textile design in Aalto University in Helsinki. I wanted to design print patterns for interior design and fashion, but then started to find the design process too restrictive creatively. For my MA thesis project I decided to focus purely on drawing as self-expression, free from the demands of a repeat pattern or other end product. I researched different methods to "free" the drawing hand from perfectionism and other pressures, with the aim of drawing more spontaneously, intuitively, experimentally and expressively. I focused on drawing my favourite theme, wildlife, and the result was a large series of ink-drawn animal illustrations. Through that long, immersive creative process I almost accidentally found my "calling". I found such joy in drawing that I realised that I wanted to share it with others. 
Illustration for me is about sharing my ideas, thoughts and feelings with the world, in the way most natural to me – through visual storytelling. At the same time it is what roots me in the world I guess. I also try to share the joy of drawing by teaching workshops which are about finding one's own creative voice through experimental drawing.
I ended up working as a children's book illustrator almost accidentally. The wildlife-themed drawings I created during my MA thesis project were on show in a gallery in Helsinki, and the lovely Jenni Erkintalo and Réka Kiraly from Helsinki-based Etana Editions, now my publisher, came to the exhibition. They fell in love with my animal characters and suggested making a book with me. They have now published two children's books illustrated by me and we have plans for making more.
I am a very visual person: I think, dream, memorise and learn things through images. Hence telling stories through images comes very naturally to me.
Your work focuses mainly but not solely on children's book illustration. How do you tell stories through images?
I am a very visual person: I think, dream, memorise and learn things through images. Hence telling stories through images comes very naturally to me. When working with images, you have so many different tools to play with: lines, forms, perspective, composition, texture, colour… And every element has a symbolic as well as an informative meaning. Of course, when working on a children's book, the dialogue and harmony between the text and the images is very important. It's all about finding the right balance. The ideal situation is where the illustration fills in the gaps that the text leaves and vice versa, but in a way that both leave enough space for the reader's own imagination and conclusions.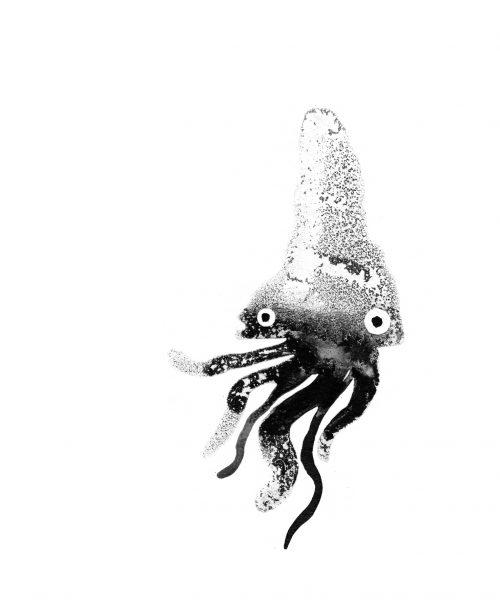 Your illustrations have been shown in many exhibitions and have won many awards. Which projects have had the most significant influence on your art?
Since graduating I have mainly been focusing on children's book projects, with some other illustration commissions in between. I've been very lucky to have been granted arts funding for my work on children's books, like the one-year funding programme from the Finnish Cultural Foundation I have just finished, and that has been the most significant factor in terms of my development as an artist. It has been great to focus full-time on creating high-quality children's literature. Children's books play such an important role in the future generations' education, development and emotional life. It's through reading and other cultural activities that children learn to have better empathy skills which I think is actually crucial for our survival as a species. This is why I love working on children's book illustration the most. 
Two years ago I was commissioned to design a large, illustrated carpet for the new Helsinki central library Oodi among a handful of other popular Finnish illustrators. That felt like a real honour – to have my artwork permanently on show in such an incredible building which stands for literacy, democracy and equality in my home country. To be honest in many areas of illustration I feel I'm still finding my way. The book projects have been so time-consuming that I haven't really had a chance to do many commercial illustration projects. Lately I have started to feel like I would like to try my hand at some textile pattern design projects again, for a change. I'm hoping to also do more editorial illustrations in the future.
As a kid I kept pets ranging from snails and lobsters to rabbits, cats and goats. I spent years saving my weekly allowance for a donkey!
Many of your illustrations celebrate the richness and diversity of wildlife, often with a dash of humour and wit. Where does this interest in wildlife come from?
I have always been fascinated by wildlife. As a kid I kept pets ranging from snails and lobsters to rabbits, cats and goats. I spent years saving my weekly allowance for a donkey! I never got one though, but I worked at horse stables and spent a lot of time on farms when growing up. As an adult, I try to get away from the city and hang out with animals for at least a few weeks every year. I spent a month working on a goat farm in Portugal. Walking with the herd of goats and the milking routine every morning made me so happy! The year before that I went on safaris in West Africa whilst doing an artist residency in Benin. Sitting on the roof of an old Land Rover spotting exotic animals had a huge impact on me.
I am interested in how different physical nature experiences translate into the visual language of an artist. My drawings are informed by the real life encounters with domestic and wild animals I have had throughout my life. I believe that the drawing hand has a memory of itself. In the act of drawing, it transforms tacit knowledge – layers of past experiences – into something visible, into the form of an image. In my wildlife drawings I try to capture the essence and the energy of animals, the way I have experienced it, through intuitive, spontaneous and experimental drawing techniques.
Animals are not only fascinating and beautiful to observe, but they also serve as an interesting tool for studying human emotions and behaviour. We have been projecting our feelings and traits onto animal characters since early cave paintings. Whilst drawing primarily from my personal nature experiences, I'm also inspired by the collective animal knowledge that is myths, stories and fables linked to animals in our culture. I am interested in the ambiguity of our depictions of other species, the grey area between human nature and animal nature in our imagery. The animal image serves as a great tool to study the complexities of human existence, whilst simultaneously pondering how life is for other species. My drawings toy with both human and animal stereotypes. They are intuitive, subjective portraits that tell stories of mammals named humans meeting other animals, with a message that we should value and protect all species on our planet.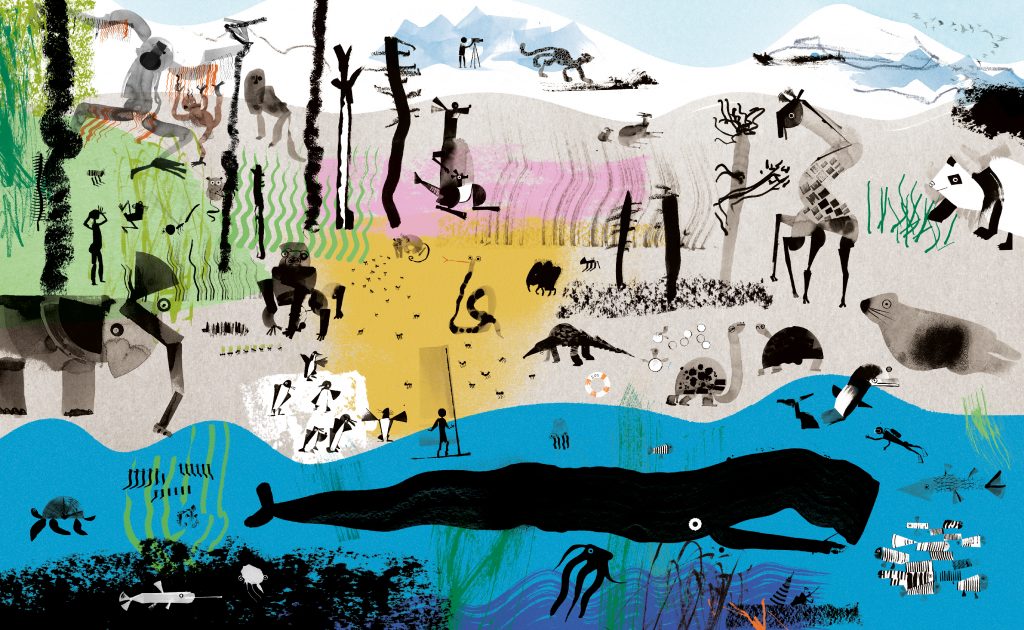 Your wildlife-themed drawings do not intend to be a mere reproduction of reality. How do you find the right balance point between figuration and abstraction in your work? What do you draw with?
When drawing, instead of aiming for realism I try to tap into my subconscious, my past experiences, knowledge and feelings to create expressive, intuitive and spontaneous illustrations. My drawing process is experimental and playful. I'm a perfectionist by nature and I find that perfectionism can really hinder your creativity. It is a kind of a curse and a blessing at the same time. It's what drives me to create, but in some important parts of the creative process it can also really distract and blind me, make me focus on the wrong things and as a result lose oversight. To battle this I'm always looking for new ways to "trick myself" to draw with less care and less attention to detail. It's like I'm on an endless search for a more minimal approach to drawing. In my own view my best works are the simplest ones, where the line between figurative and abstract is blurred. I believe a creative illustration is at its most effective when it leaves room for interpretation. A successful image is interactive: it sparks the imagination of the viewer who then fills the gaps in their own mind and gets rewarded with that "eureka" feeling as a result.
Sometimes the first spontaneous sketch is a masterpiece, but most often, to get to a finished drawing I have to make huge amounts of mess first. I think most people would be surprised if they saw the piles of sketches that led to the final, seemingly simple and effortless drawing. When I'm in the middle of a sketching process my studio's every surface is covered in paper with random ink splashes, brush strokes and other experiments. The point of the chaos part of the drawing process is that often mistakes and coincidences lead to new ideas and an exciting new visual language. The biggest challenge, I find, is conserving the freshness, spontaneity and the charm of an initial sketch in the finished work.I use lots of different mark-making techniques and varying tools to draw with. Anything that I think will leave an interesting mark: cleaning equipment, tools from hardware stores, sticks, plastic and cardboard shapes and other bits and pieces I get my hands on.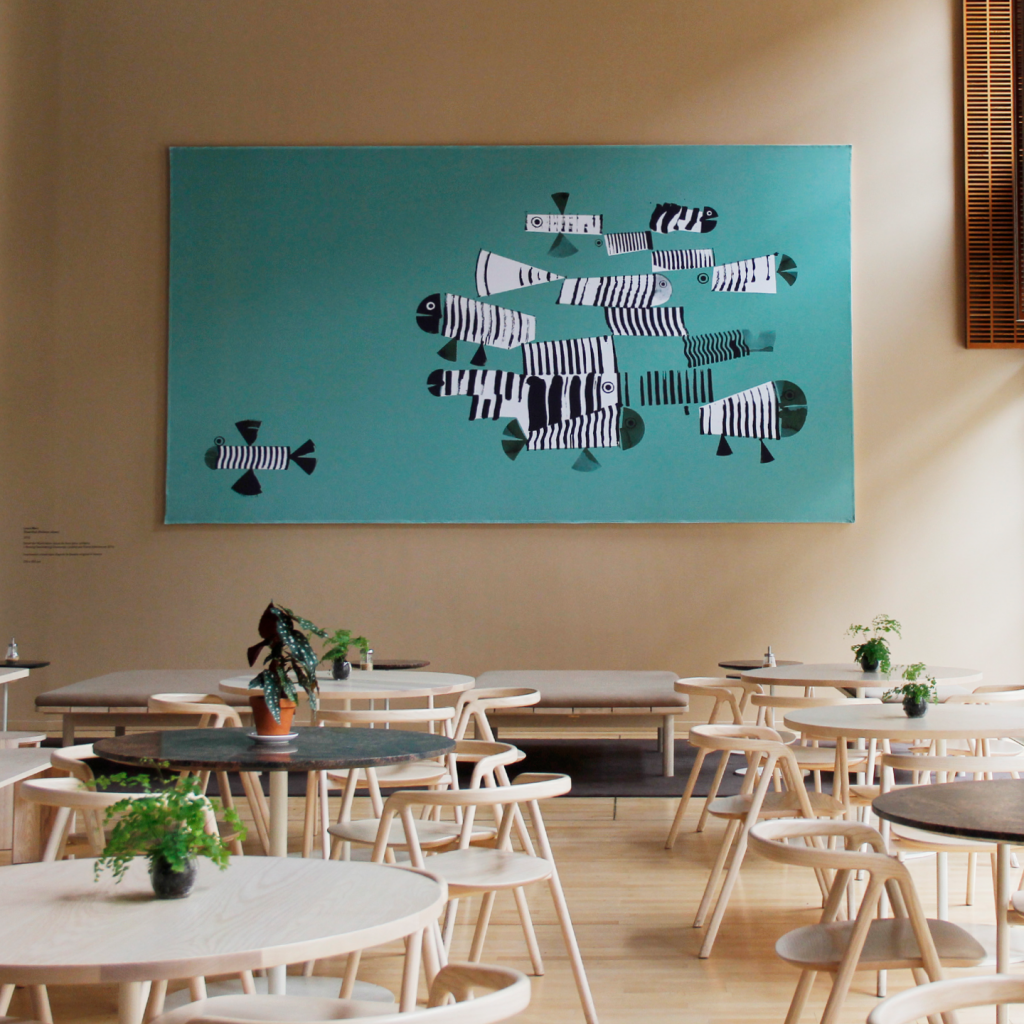 The work Clownfish, presented at Institut finlandais until July 18th, is a reproduction of an original ink drawing from the book Among Fascinating Creatures. Could you tell us the story behind this work?
The clownfishes portrayed in the work are actually just side characters in the book. They are a school of fish in a marine landscape which illustrates the current state of our oceans. The species don't really have part in the story other than to bring some graphic, black and white stripy boldness into the spread's composition. However, I recently watched an Attenborough clip which showed clownfish using teamwork to move a coconut shelf along the sea bed to create a safe place to lay eggs, and decided to give these stripy fellows their own spread with more insight into their lives in my next book.
What are your projects for the future?
I'm currently working on a bunch of new children's book ideas and collaborations with some great people, including a story based on Sámi culture and mythology with Sámi author Helga West, continuing my wildlife-themed children's books with Aino Järvinen (the author or my first two books), and a book on experimental drawing techniques for kids to try at home. I'm also working on a public art project, a small mural painting which will be in my hometown Lohja.