The Middle Sea exhibition, which opens in September, presents works by Finnish-Tunisian artist Dora Dalila Cheffi and the fashion brand ÉLBÈ. We discussed with Cheffi about her work and the implementation of the collaborative project.
Before moving to Tunis two years ago, you had spent most of your life in Finland – except for summers in Sfax, your Tunisian father's home town. You've mentioned that now, instead of looking for differences between the two cultures, Finnish and Tunisian, you're trying to let the idea go and focus more on finding common threads. Would you say that there has been a shift occurring in your work that would reflect this change of mindset somehow?
I think there are constant shifts in my work because my work shifts with my mindset. As I spend more time in Tunisia I'm able to understand more and fold into the threads that connect this place with Finland, and myself, and other places too. The gap that existed within me gets mended over time and I can build on this topic and connect with other things that become important to me. I think this will always reflect in my work because it affects the way I think and perceive the world around me.
In the exhibition Middle Sea, which will be on view at Institut finlandais starting from September 2020, the visitors will see works both by you and a Mediterranean fashion accessories brand ELBE. After the initial conversation, you decided to extend the invitation to your Tunisian contemporaries. What speaks to you about the work of ELBE?
I like the fact that they're two girlfriends designing and making works that speak to them. I enjoy their taste and appreciate what they're doing, and I think it's a good thing to support each other. Even though what we do is obviously different, making accessories and making artwork, there are similar threads to the spirit of what we do, meaning we both make work that reflects a melange of our own cultures that we draw from.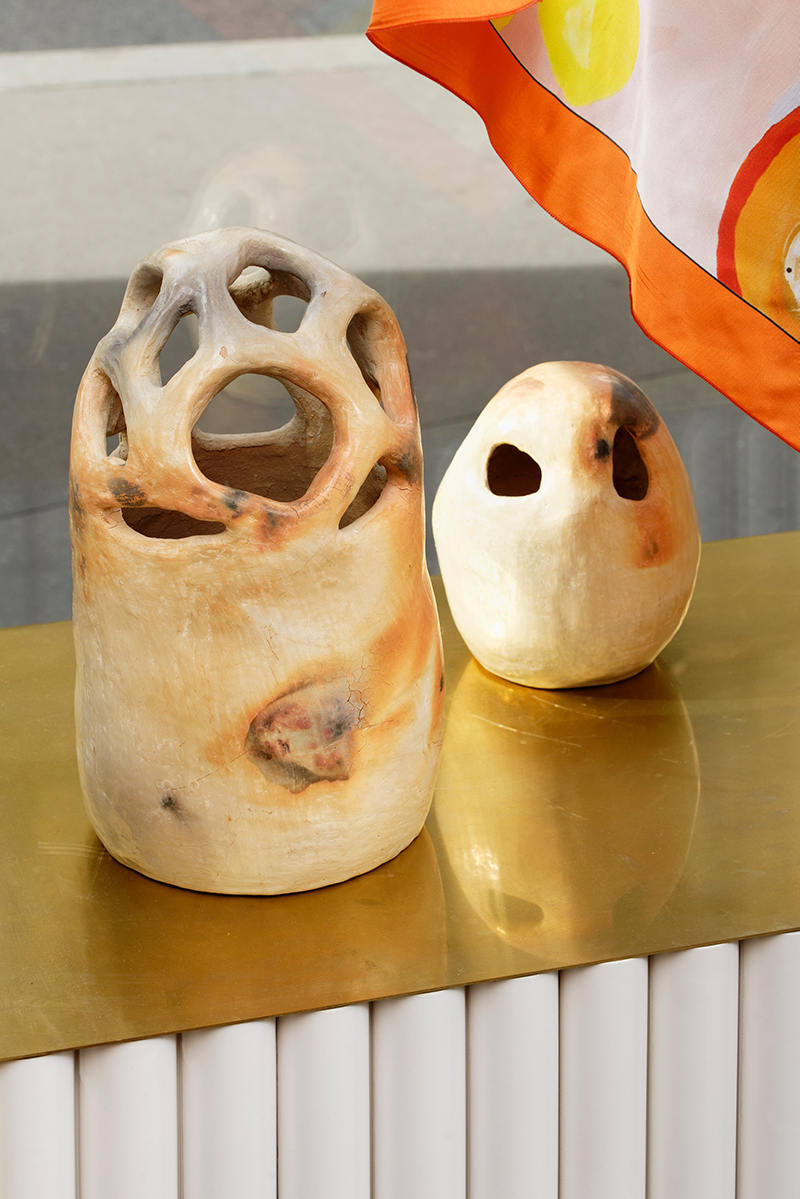 For the exhibition, you are working together with ELBE on a collaborative scarf. How was the dialogue leading to the design process?
It was pretty smooth; we both trusted each other and spoke about the feeling we wanted to convey in the collaboration. There was a mutual understanding so there wasn't actually a long dialogue, we sort of naturally understood what we both wanted.
It seems like the Tunisian art and creative scene is going through an exciting phase at the moment. Young artists like you are not disheartened by the lack of official art institutions or spaces, quite the opposite: for example, you decided to organise independently, with the help of your friends, the exhibition Bitter Oranges earlier this year. How was this experience? What kind of feedback did you get from the public?
The experience was better than I was originally imagining, even though of course it was a lot of work, and required pulling resources from many directions and contributions from many artists, thinkers and creators in Tunis. I think there is a sense of solidarity and community that exists as a result of the lack of institutions that you speak of, and it was lovely to see a lot of art students coming to the exhibition, and a new crowd that I don't usually see in the galleries.
What are your favourite spots in Tunis?
There are so many of them. If we're only talking about Tunis, not even outside the city, then I love going to restaurants with my friends, eating well and catching up on what everyone's doing. I love going to the beach and my friend's houses with pools. I love the centre-ville and going to the frippe (secondhand markets).
You work mainly on paintings, and the language is often characterised by childlike aesthetics when it comes to compositions, colours and forms. What gives you inspiration besides the daily observations and life in Tunis? How about your favourite painters – could you name a few?
I've lately been concentrating on painting as a medium, but I always like to find new ways of creating and trying different materials in my work. Photography is the base of whatever I'm painting, so that's an important starting point for me. Alice Neel is great, Alex Ayed is not a painter but I appreciate his artwork a lot, he works with materials like soap and marble.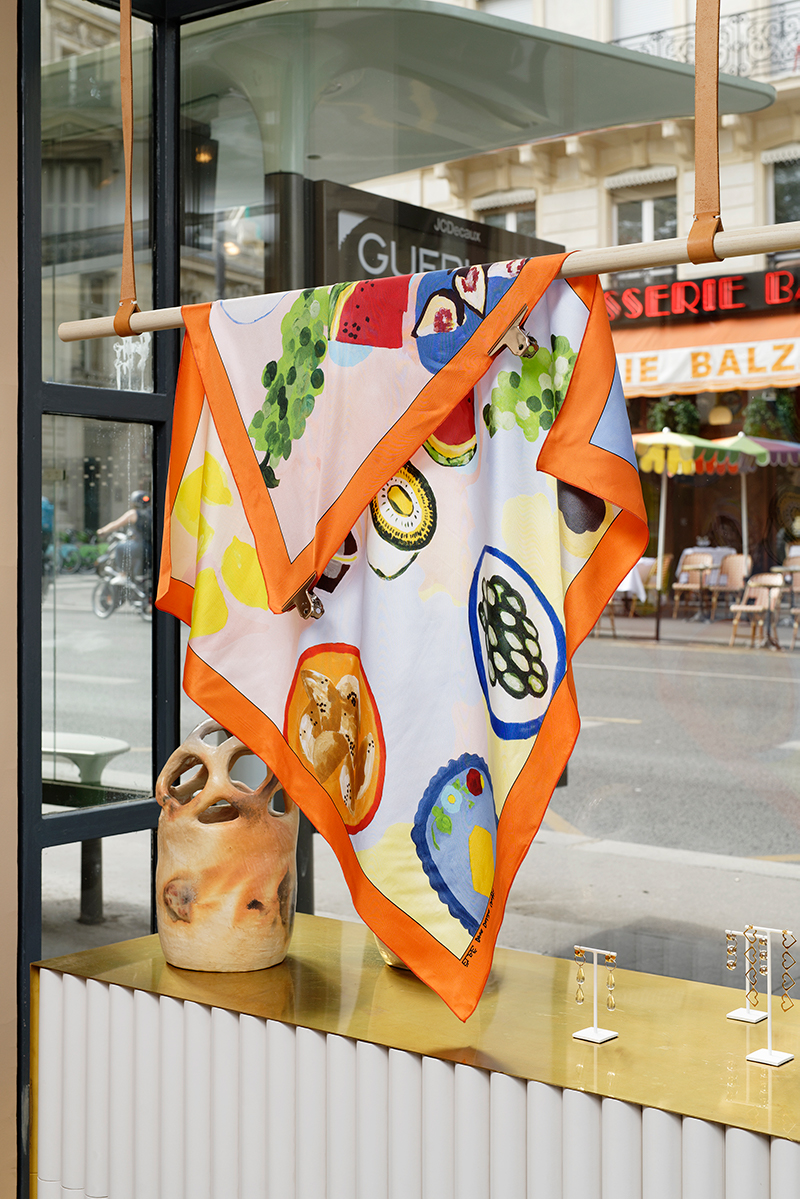 Besides paintings, you often work on sculpture, notably ceramics. In the exhibition Middle Sea, we will see some ceramic works, which have been made in the traditional Amazigh style of pottery and clay making. In January 2020, you spent one week in Sejnane, Tunisia, learning this traditional craft technique with the local women. This journey is also captured in a video work طريق as part of the Middle Sea exhibition. What was the most important souvenir from the journey?
Going to Sejnane, even though one week is a short amount of time, I was able to learn the basics of how this tradition lives. I just wanted to learn this, so for me, the most important part of it was the possibility for me to have the experience. Our host, Monjia, who taught me everything throughout the week, and advised me on the composition of the artworks, was so generous and hospitable.
What are your dreams for the near future?
After coming back from Paris, I'm going to go back to work. I'm developing a new project about womanhood in the context of Tunisian culture, that will require a lot of research, so I'm looking forward to this. I want to produce a versatile body of work, and study the richness of Tunisia's natural resources to create material works with things that are not so accessible in Finland and other parts of the West.