Every month, Institut finlandais highlights creatives whose work sheds light on today's Finland and France. Beyond just a simple statement of how things are, the observant gaze of Osma Harvilahti, a Finnish Paris-based photographer, help us seeing the surrounding compositions and their meanings, proposing more than just one possible conclusion to the story. Osma shared with us his view on the importance of collaborative practices and the Parisian light for his work and talked about his vagabond lifestyle.
You moved to Paris from Helsinki three years ago. What would you consider as a major difference between the two cities, especially when it comes to their significance with regards to your creative practice?
After the first 3 years spent in Paris, I have increasingly learnt to appreciate collaborations with other artists as part of my work process. The field of Photography is really competitive in Paris and London and it feels good to try to support and work with others as much as possible. There is a growing number of photographers, stylists, set designers and other artists moving to Paris at the moment and that is making it even more interesting to live here right now.
It feels like my sense of time has changed and this is something I consider as a major difference between Helsinki and Paris. There are so many things going on here and also living through the fast fashion and publishing cycle kind of makes the time run faster. Recently I have tried to visit Helsinki often and that kind of creates good dynamics combined with my work in Paris. Another thing which I consider very positive in terms of working conditions is the amount of light and the short winter.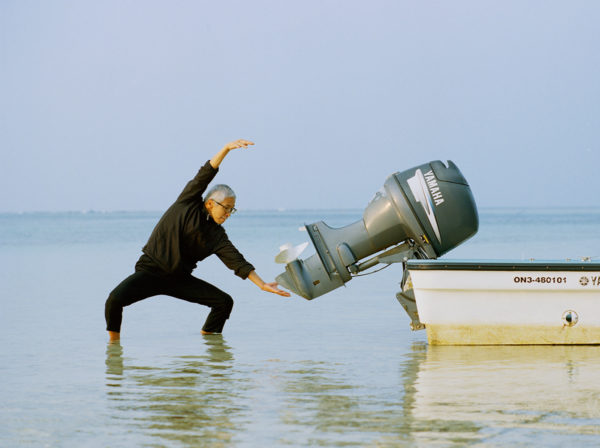 The importance of light plays a major role in your work, combined together with subtle colour and form compositions. Beyond these rather lucid elements, one can also find a strong engagement with the surroundings and current themes through a subjective selection process. How do you see photography as a medium enabling to combine these two aspects?
It feels like living in Paris has changed the way how I take photographs and also what I consider as important while working on my personal projects. From Helsinki, I always used to travel as far as could to find myself in unknown surroundings and which would offer me material to start working with. I would then bring these ideas and themes back to Helsinki and use them to produce new bodies of work and editorials. Now that I'm in Paris I feel like I don't need to travel that much. Changing the arrondissement can be enough to find something interesting and unexpected.
I have always been interested in documenting my surroundings and looking for resonating things in the everyday life. My educational background is in Social Sciences and Fashion Sociology and it is so fascinating to look at how people dress and come up with all sorts of makeshift solutions to make their life easier and which is then shared and mutually accepted in the communities. My main interest in photography is still in the social, having a chance to work and meet people, making observations of every day and sometimes blurring the line between what could be described as "real" and arranged.
How did you end up working in photography? How has your relationship with the medium changed and developed throughout the years?
Becoming a photographer feels like the most natural thing. Camera replaced musical instruments and skateboards in my early twenties and I kept shooting as a hobby while working and studying in Helsinki. A turning point was an internship I did at an art gallery in New York in 2011 – it really got me thinking that I should pursue photography more seriously. I could see how photography makes the world smaller and has so many possibilities and positive excuses to offer, in terms of meeting new people and travel to places. I got hooked on this feeling of letting go of the ordinary life rhythm and being always on the move.
What has changed is that now I am reserving more time and resources for every project I decide to start working on. I am developing new ways of using my studies as material for my photography and to challenge myself with incorporating new collaborative methods to my working process.
How do you view the world? Do you consider photography as a way to create something new, or rather, as a means to uncover something that already exists – redirecting our focus?
Photography definitely is a way to reach out and connect with the world, meet people and learn through having the opportunity to travel. The camera is both a mechanic instrument as well it is an excuse, a kind of a psychological asset that allows us to step into different culturally approved/disapproved roles. On a more personal level, photography can surely break barriers and educate us in many ways. It is always about including something in a shot or body of work and in this way it always alters and frames the "reality". The photographer appears as kind of a curator who decides which kind of representations and nuances to include, which always has the power to change the way we look at things.
On a more personal level, photography can surely break barriers and educate us in many ways. It is always about including something in a shot or body of work and in this way it always alters and frames the "reality".
You are also part of The Community, a collective-run art space and multidisciplinary project. Within this project, you have also curated photography exhibitions, thus further developing dialogue and collaborative practices among other photographers. How has this experience been? Has the multidisciplinary aspect of the project changed your regard for other practices?
Having the chance to work at The Community as Director of Photography Projects has so far been a very special experience in my life and for my career as a photographer. Seven years back I was interning at a small art gallery in New York, which was based on bringing the local art community together. It felt inspiring to be able to have an easygoing conversation together with an art student and a photography star without having the usual oppressing setting of a big white cube. Our philosophy at The Community is also based on inclusiveness, and what really fuels this is the diverse background of all of our members and understanding the strength of it.
In this role, I have had the chance to apply the various skills and knowledge collected over the years as a photographer, and distance myself from the usual process which normally results in a photograph. Paris is not traditionally known as the most easygoing and social place in the world so it feels really good to see people coming back and being open for our proposals of collaborations and dialogue. My interest is to battle this egoistic culture related to photography and fashion through finding ways for people to collaborate and come together in forms of curated shows, publications, commercial projects while developing ongoing relationships. It feels good to realise that getting support, and being able to provide support for other members of our collective is inspiring my personal work, and making my practice more social and open for new collaborative approaches.
What has brought you joy and inspiration lately?
I am always inspired by the root vegetable section of my local convenience store Le Zingam. I hear people are coming over from the other side of Paris for their affordable cheeses and mouldy vegetables. I am also inspired by the lack of and the amazingly blue colour of Finnish winter light which I did not really see as interesting until now.
Could you tell me something about your creative process? What are the first steps for you when planning a shoot?
My work is based on kind of a curatorial process taking place before I start the actual shooting, observations and documentary type of approach while working also on more imaginary ideas. Last year I realised I need to bring together my interest towards modern dance and photography. I was sent to South Africa to work on an editorial project and realised that it was a great opportunity to stay and connect with a Cape Town based dance institution. During the project, I spent several mornings talking with the director of the dance company in order to understand the background and meaning of dance in the local community. Through the conversation, the original idea of my project changed. It became more about the power of dance, helping the young people living in the township of Gugulethu to challenge themselves and find a passion to drive them onwards. Through experiences and meetings, the project and its focus evolved, while I was trying to keep up with the excited people and make notes on what seemed to be most relevant. Ideally, there is always a chance to spend time with the subject and see how things turn out when time passes. While working on editorial projects, figuring out the technical and visual frames and possibilities in the very beginning seem important since usually there is not enough time to go somewhere and find the desired conditions. My editorial work is often inspired by things that I have seen while travelling, music that I listen to and everyday scenarios I witness. My phone is full of abstract notes based on ideas, dreams and interactions of people. I use these notes to produce mood boards and narratives for stories.
What is the funniest project you have worked on so far?
Last year, for a few months I was responsible for all the social media content of Hermès, travelling from continent to another following their team to fashion shows and events. While this was one of the most interesting and challenging commercial projects I have been involved with, at one of the events I wanted to feature a video of a prestigious wooden horse being treated with oil by a Barcelona store clerk. The video was published for the eyes of 5 million Instagram followers, gained a lot of attention, and its comment field filling up with notes on the smooth hand movement of the salesperson. It turned out I caused a mini horse sex scandal and the video was quickly removed as explicit content.
What is next for you? Where would you like to see yourself in the future?
Lately, I have been more focused working on new books and personal work so I am feeling excited publishing some of it this year. Two of the projects that are currently in the early stage of production are based on working with artists from other fields, so it seems to be all about collaboration and testing the limits of photography as it is traditionally known. It feels like Paris is getting such a likeable place to live, so I would like to see myself here for a bit longer.
Photos: Osma Harvilahti