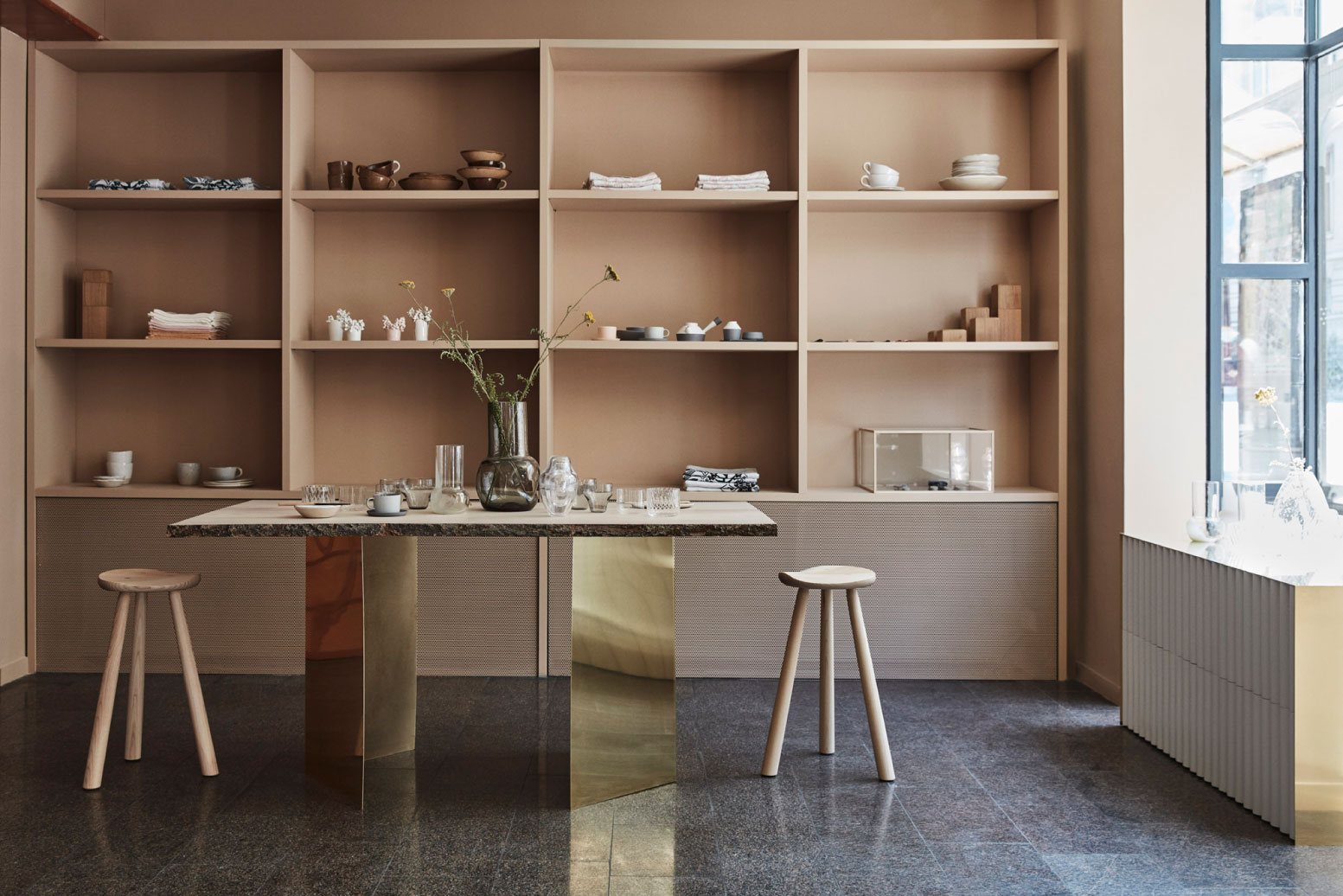 Institut finlandais reopens after the renovation on July 14, 2018, with the new exhibition "Juhlat" (The Party).
Institut finlandais has been closed for over a year because of the renovation works, but now, we are happy and proud to reopen the facilities along with our new exhibition Juhlat. Come discover the renewed premises with its new interior design, the new exhibition and the unique artwork by Renata Jakowleff.
The building was originally designed by Juhani Pallasmaa in 1990. The architect in charge of the renovation works is Pekka Littow from Littow architectes. The renewed interiors with contemporary Nordic aesthetic are designed by Studio Joanna Laajisto, and the furniture manufactured by Made by Choice. The combination of organic materials and textures, such as ash tree, Finnish granite, and wool, create a natural and calm ambience that speaks of today's minimalist design.
A commissioned artwork by Renata Jakowleff "Reflection painting, gold" is presented in the inaugural exhibition, and it can be discovered in the Great hall of the Institute. Jakowleff is specialized in the experimental use of glass and other materials: fascinated by movement, through her work she searches elasticity and flexibility in all of their forms.
In the IF Galerie, we present a collection of design and crafts entitled "Juhlat" (The Party in Finnish). The exhibition is curated by Katja Hagelstam from the gallery Lokal in Helsinki, Finland. The selection consists of 17 creatives – both companies and individuals – working with natural materials and limited editions.
Artists and designers:
Klaus Haapaniemi
Antrei Hartikainen
Leena Kouhia – Raaka Rå
Veera Kulju
Pasi Kärkkäinen
Lapuan Kankurit
Nathalie L
Helena Lehtinen
Nikari
Inni Pärnänen
Anna Rikkinen
Sami Ruotsalainen
Gina Salaris
Snaebjörn Stefansson
Heikki Viinikainen
Iina Vuorivirta
Yoshimasa Yamada
Juhlat is on view at the IF Galerie from July 14 to December 22, 2018.
Photography by Mikko Ryhänen, Katja Hagelstam and Christian Jakowleff.
Partners:
Katja Hagelstam
Renata Jakowleff
Littow architectes
Lokal
Made by Choice
Studio Joanna Laajisto