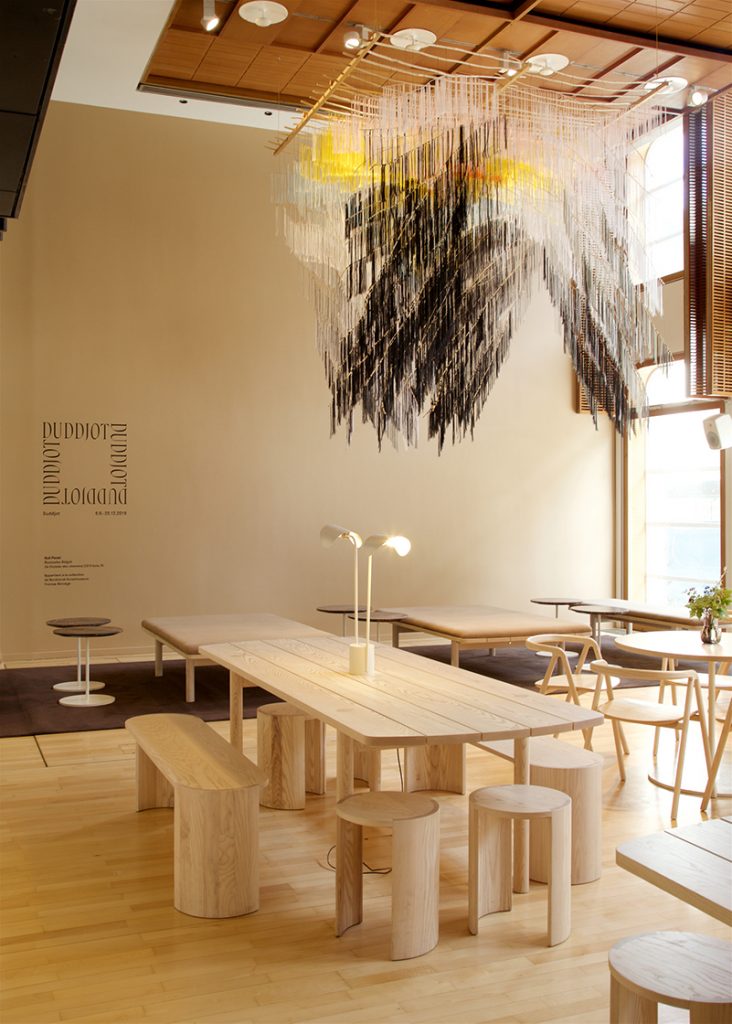 Outi Pieski
Outi Pieski (b. 1973) is a Sámi artist who works with painting, installations and collaborative-collective art projects. Her works deal with the rights of the indigenous people, decolonisation and the interdependence of nature and culture. In her art, Pieski draws from the visual tradition of the Sámi and bringing forth the situation of a minority culture to whom political channels have been closed.
Pieski graduated from the Academy of Fine Arts in Helsinki in 2000. Her solo exhibitions include, among others, the Oulu Museum of Art (2019); EMMA – Espoo Museum of Modern Art (2018); Southbank Centre, London (2017) and Kristin Hjellegjerde Gallery, London (2014). Her works have been presented in several group exhibitions internationally, including Kiasma, Helsinki (2019); Scandinavia House, New York (2019); Phillips Collection Museum, Washington (2018) and the Felleshus and Grimmuseum, Berlin (2015). She received an award from the Fine Arts Academy of Finland in 2017 and was nominated for the Ars Fennica Award in 2015. Currently, her installation is presented in the Venice Biennale in Finland's Alvar Aalto pavilion as a part of the Miracle Workers Collective. Pieski lives and works in Finland, in Numminen and in Ohcejohka (Utsjoki), her home region.
The installation Ruossalas Bálgát (Crossing Paths), 2014, is a three-dimensional drawing that depicts a fell scenery which is important to the artist. Gátki, i.e. fringes of the scarf of the Sámi outfit, are knotted around peeled Rowan saplings using the traditional Sámi technique. This ritual handcrafting is a central part of the work. Duodji, the Sámi arts and crafts, is its own language that speaks about the traditional Sámi knowledge and philosophy of life. The inspiration for the piece are the artist's wanderings and encounters in the land of her foremothers.
Photography: Katja Hagelstam and Veera Mietola.
Ruossalas Bálgát belongs to the collection of Nordnorsk Kunstmuseum (Tromsø, Norway).