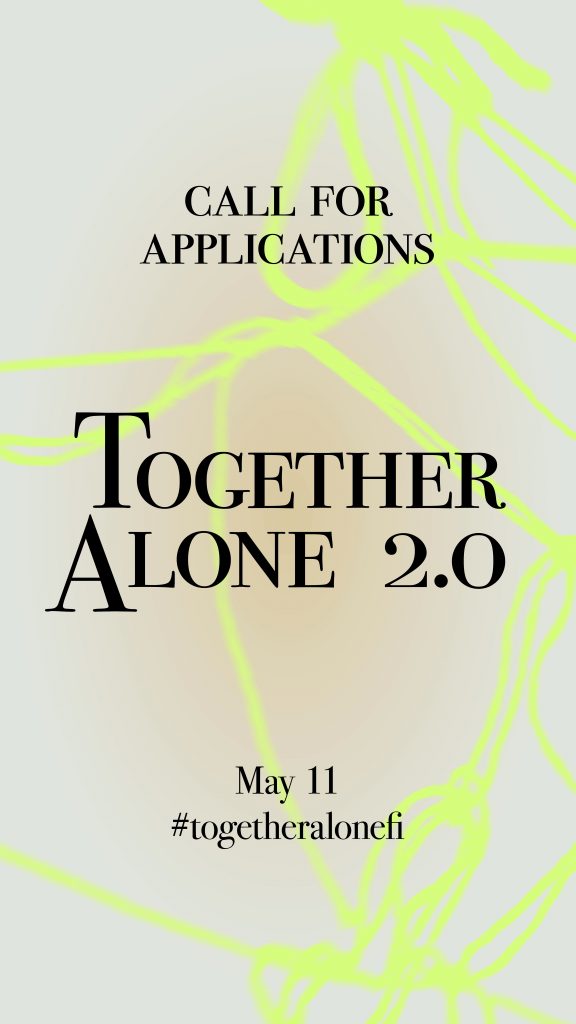 Together Alone 2.0. is looking for international art projects
The online application for the Together Alone 2.0 programme, organised by the Finnish Institutes of Culture and Science is now open! For the second time, the international network of Finnish institutes of culture and science invite artists either Finnish or living in Finland, artist groups and their colleagues abroad to co-operate across borders. The pandemic is still keeping us physically separate, and the crisis is having a major impact on the cultural sector.
Institutes are now looking for art projects that address the challenges and solutions that have emerged from the crisis: perseverance in the face of a pandemic, radical change, social innovation, and inclusive and achievable artistic practice. We encourage collectively and socially responsible project cooperation that takes into account minorities and under-represented groups.
The aim of the programme is to support the livelihood of artists in a crisis and to promote the continuation of international co-operation. Although mobility and physical encounters must now be restricted, we want to emphasize the importance of international collaboration and networks. The major concern is that, as the epidemic continues, international dialogue will shrink.
Through the Together Alone project, we want to encourage artists, regardless of their industry, to think of new ways to act in a situation where mobility and physical contact are no longer possible. In particular, the programme is looking for projects that encourage extensive international collaboration – without physical encounters.
The application for the programme is open immediately and proposals for the project are requested to be submitted by 11.5.2021. Apply now!
More information and the online application: https://instituutit.fi/en/together-alone-2-0-open-call/