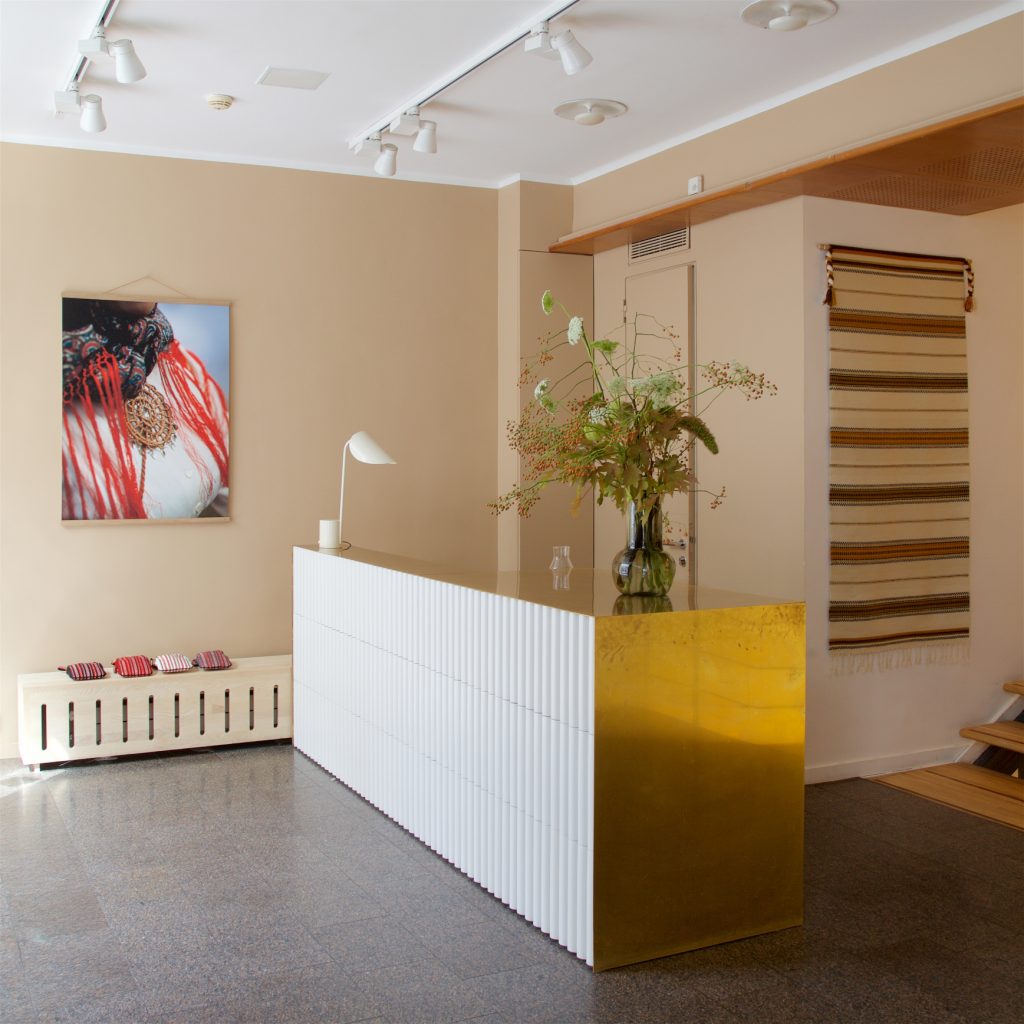 As we approach the end of 2019, Institut finlandais will be closed from December 21st to January 16th. See you on January 16th at 6pm for the opening of our new exhibition "Carte Blanche à Laura Väre" Please note that Café Coutume will be closed from December 23rd to December 26th and from December 30th to January 2nd. Please note that when the gallery is closed, the entrance to the café Coutume takes place only from 33, rue du Sommerard.
Savoring Inari Sámi Delicacies at Restaurant Aanaar
What are your impressions when you hear the words angelica or rye bread ice cream? What about wild garlic mayonnaise, or blueberry infused lichen? Your first thought may be that these ingredients are rather unusual, but at restaurant Aanaar in Sámi country they are part of everyday fare.
Located in the village of Inari, on the banks of River Juutua, Hotel Kultahovi has played a central role in the development of tourism in Lapland since its opening in 1937. Since 2003, the hotel and restaurant have been managed by the sister-brother team Kaisu and Heikki Nikula. In 2008 they reimagined the hotel restaurant and opened Aanaar, headed by Heikki Nikula. Aanaar has earned accolades as the best restaurant in Finland since its opening. The secret of success is the way it has revisited local Sàmi food traditions and its innovative ways of using local ingredients. 
Foraged and seasonal ingredients are the foundation of traditional Sámi food culture. Typical ingredients include reindeer and all its parts, fish, wild mushrooms and berries. Transmitted orally from generation to generation, Sámi culinary culture and know-how are, however, threatened by extinction. Heikki Nikula has made it his mission to safeguard, record and renew this oral culinary tradition in his kitchen. He and his restaurant have won numerous awards, including the second place in the Sápmi Awards for gastronomy and culinary knowledge competition.
Heikki is giving us a sneak peek into traditional Sámi flavours by sharing three secret recipes from his kitchen. Dried pike mousse and marinated radishes accompagnied with Angelica will be served at tonight's dinner. Bon appétit!
The recipes are also included in our IF Publication.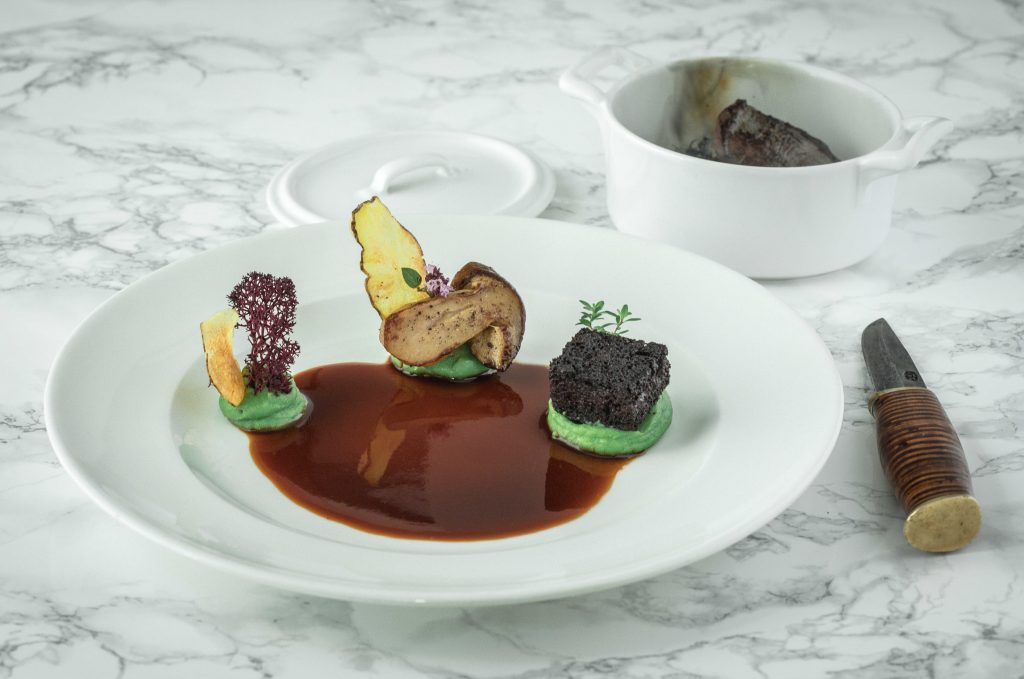 100g Cubes of reindeer fat
5 dl Reindeer blood
3 dl Strong beer
3.75 dl Rye flour
2.5 dl Wheat flour
1 tlsb Salt
Melt the reindeer fat in a saucepan. Strain Mix the blood, beer, rye flour, wheat flour and salt in a dish. Add the melted and strained reindeer fat to the paste.
Line a baking tray with baking paper. Pour the dumpling dough on the baking tray (about 2 cm layer). Heat the oven to 220°C, fry for 20 minutes. Let cool down. Cut cubes of 2×2 cm.
Dumplings are a traditional food in Lapland. They used to be made in almost every house. The traditional way to cook the dumplings is to boil them in beef stock. We bake them in the oven for extra crispiness. Reindeer blood has a refined, mild taste. Delicious and healthy reindeer fat is an essential part of the dumpling dough!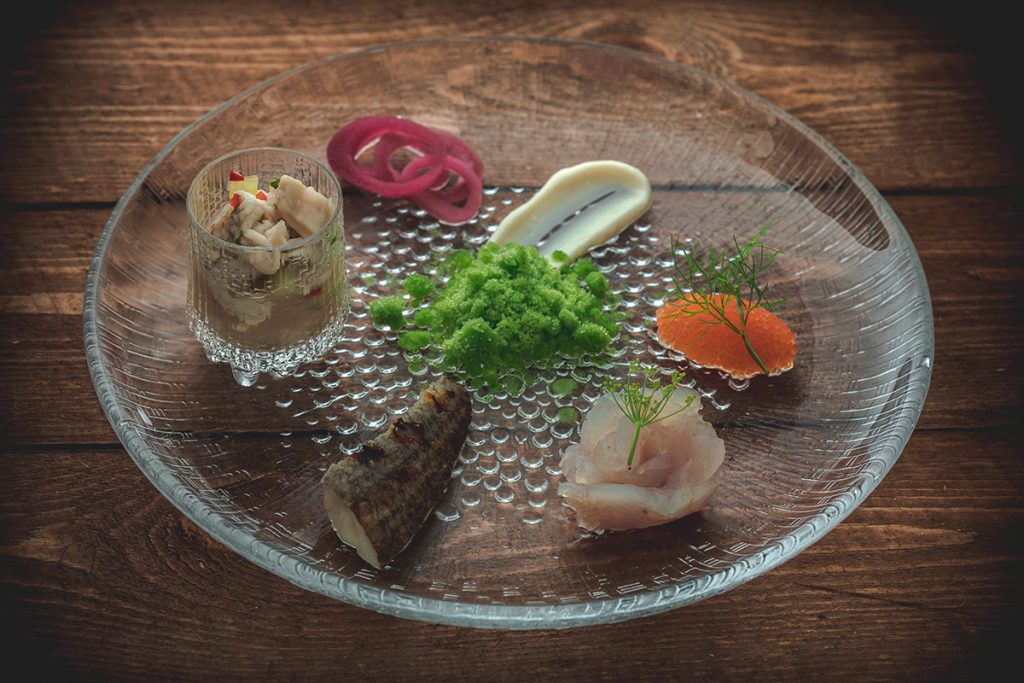 100 g Minced dried pike, soaked overnight
4 Garlic gloves
400 g Heavy cream
80 g Egg whites
30 g Olive oil
100 g almond potato puree of Lapin Puikula
3 g Xanthan gum
Salt
Cube the pike (you can also use a piece of pike with bones. Slice the garlic cloves. Fry the garlic in 2 tablespoons of canola oil for 3 minutes. Add the pike. Cook for a few more minutes.
Add the cream and cook for 10 minutes on medium heat. Blend in a mixer, strain using a fine mesh strainer. Press all the cream out of the mix. Add egg whites, potato puree, olive oil and xanthan gum. Mix using a hand blender.
Check the taste and add salt if necessary. Pour the mix into an iSi Siphon (1 litre), use 3 cream chargers. Shake and let it cool down.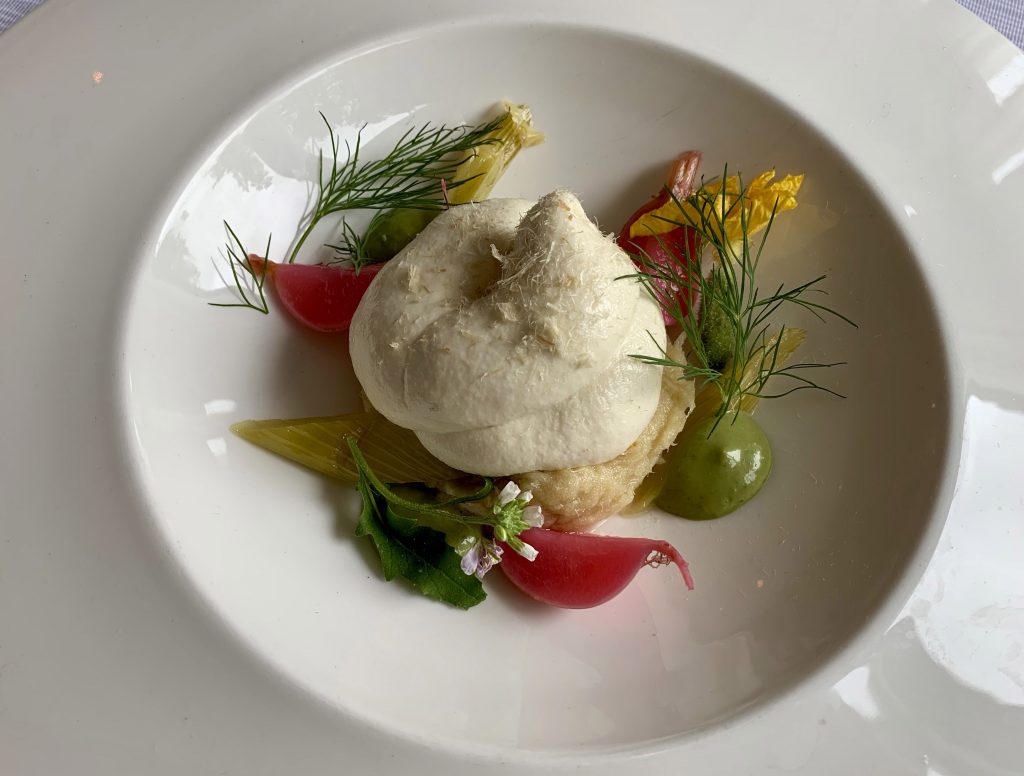 Marinated Radish and Angelica
400 g Radishes
400 g Fresh Angelica stalks
Marinade:
3 dl Apple cider vinegar
3 dl Sugar
6 dl Water
2 tsp Salt
Place the marinade ingredients in a pot, bring them to boil, mix a little and let the mixture cool down. 
Cut the radishes in four pieces and the angelica in 3 centimetre pieces. Place the radishes and Angelica into separate vacuum bacs and add a little (1-2 dl/bag) of the marinade. Seal the pacs.
Cook them in 85°C water bath for 20min. Let cool down before serving.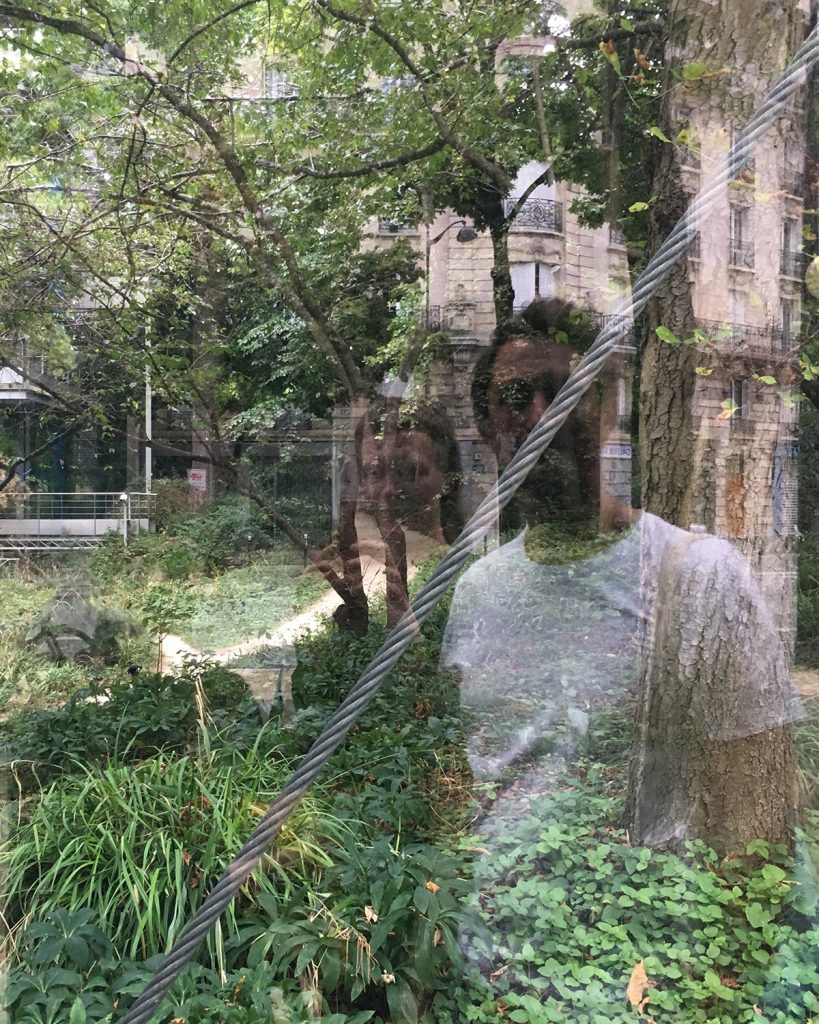 A I S T I T - coming to our senses
A I S T I T – coming to our senses is a new collaborative and multidisciplinary project organised and commissioned by four Finnish Cultural Institutes (The Finnish Institute in Germany, London, Benelux and France). Curated by Hans Rosenström and Satu Herrala, the project explores the notion of senses and its physiological, social, political and technological conditions in today's Europe. The project will be presented in Berlin, London, Paris, Brussels and Helsinki in 2021. The S E N S E S project is generously supported by The Finnish Cultural Foundation.