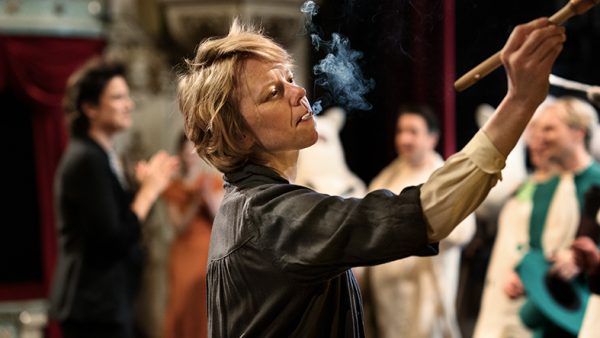 The annual film festival showcasing Finnish contemporary cinema La Finlande en 3 films will take place 1-4 October at the Reflet Médicis movie theater in the Latin Quarter. This year's interesting programme features three Finnish films all released in 2020 : Tove, Games People Play and Anerca. The festival is a long-term collaboration between the Finnish Film Foundation, Reflet Medicis, Dulac Cinémas and Irmeli Debarle.
Programme:
Friday, 1 October at 8 pm
Jenni Toivoniemi: Games People Play (Seurapeli)
2020, 120', with French subtitles
A group of friends gathers to organise a surprise birthday party for their friend Mitzi in a seaside villa, where they used to spend time together as teenagers. However Mitzi is not pleased by the surprise. The bittersweet reunion, fueled by a game initiated by Mitzi, makes the group relive their shared past, evoking memories and secrets that make them re-evaluate both their past and their future.
Games People Play is Jenni Toivoniemi's first feature film. Her short film Treffit was rewarded with the Short Film Jury Award for International Fiction at the Sundance Film Festival in 2013.
Saturday, 2 October at 8 pm
Zaida Bergroth: Tove
2020, 116', French subtitles
Tove illustrates the life of Tove Jansson, painter, author and the creator of the famous Moomin characters. The film is set in the period of 1945-1956, a time when Tove Jansson, the daughter of a famous sculptor, was still searching for herself as well as her voice as an artist.  In this post-war era of cheerfulness, Tove sets herself free from social conventions, both in her art and in her lovelife. After a relationship with a married man, she falls in love with a famous theatre director Vivica. Jansson's cartoons for an English newspaper bring her economic independence and make her famous internationally.
Tove is Bergroth's fifth feature film and it is critically acclaimed both in Finland and internationally. 
Sunday 3 October at 8 pm 
Markku & Johannes Lehmuskallio: Anerca, Breath of Life ( Anerca -elämän hengitys)
2020, 120', with French subtitles
Anerca, Breath of Life illustrates the life and culture of the indigenous peoples of Northern Europe, Greenland and North America. Despite the fact that  these oppressed peoples have been forced to abandon their traditional lifestyle and culture, the heritage of their ancestors and a spiritual worldview are still a big part of their identity.  The documentary leads the viewer into the world of indigenous lifestyle through dances and chants, essential mediums for the cultures that are mostly oral.
In Inuit language, anerca means breath of life, soul. Markku Lehmuskallio directed this film together with his son Johannes, with whom he has worked since 2000. 
All screenings start at 8 pm. The cinema Reflet Médicis is at 3 rue Champollion, 75005 Paris.