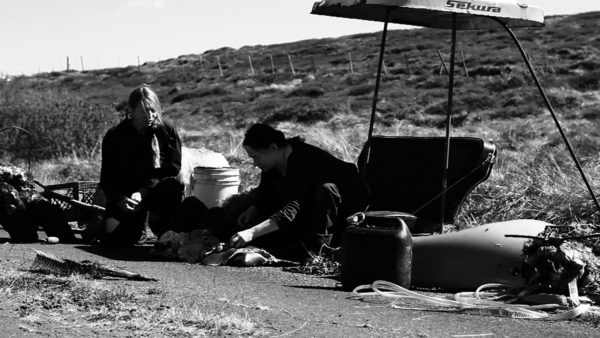 For the second edition of the IF Screenings program, we propose you a French-Icelandic feature film Carcasse and Percival's Perceived Pebble, a French-British short film, shot in Iceland. Both films are interpreted only through sound and pictures, thus questioning the notion of reality in a similar way.
Wednesday, February 20th – 8 p.m.
Auditorium of Institut finlandais
Opening: 7.30 p.m.
Price: 7€ / 5€*
60 rue des Écoles
Program:
Carcasse, Gústav Geir Bollason & Clémentine Roy, France-Iceland, 2017, 60 min
A group of people and animals live together on a deserted island, where they work with the relics of a lost world in order to build a new one. Somewhere between ethnography and sci-fi, Carcasse invites us to inhabit and invent this special landscape alongside them.
On a sparsely populated island, a group of people and animals go about their daily routine. Confronted with a hostile environment, the community must adapt to survive without the use of carbon-intensive technology. Slowly, new solutions for agriculture and transportation emerge through the recycling of mass-produced machines, now defunct. The film is set in an undated era of archaism, where our present seems to be the past and where we live in a hybrid world with a renewed relationship to the landscape.
Trailer available here.
Percival's Perceived Pebble, Monade Li & Paul Hill, France-England, 2018, 12 min
Our protagonist awakes from a dream to find himself in a claustrophobic, repetitive nightmare. He tries to escape this strange «reality» by imagining the Selkie girl from his dream is within grasping distance and can somehow free him. Are the pebbles the wormhole to their union?
Trailer available here.